The food is not up to the mark either, the study conducted by Support for Advocacy and Training to Health Initiatives has found.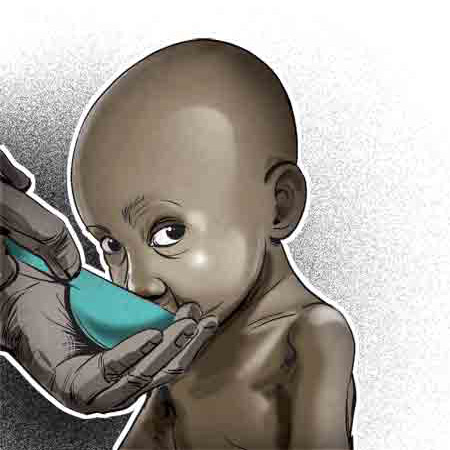 Nearly 45,000 children in the 0-6 age group die of malnutrition every year in Maharashtra.
As a preventive measure, the government spends Rs300 crore yearly to provide kids with "micronutrient-fortified, energy-dense" food under the Integrated Child Development Services (ICDS). But the project is a waste of money and the food supplied is not up to the mark, a recent study has found.
Apart from the freshly prepared kichdi and dal given at anganwadis, the government gives upma, sheera or sattu as take home ration (THR) under ICDS. A study by Support for Advocacy and Training to Health Initiatives (SATHI) found that THR's use and efficacy claims were falsified. The food barely has any nutritional value.
The study, conducted in Pune, Nandurbar, Gadchiroli and Amravati, found children and their parents preferred cooked food to instant upma packets that are distributed as THR.
The most damning finding is that the extent of both moderate and severe malnutrition is almost double in areas where THR is given, compared to where cooked food is given to children.
Even the government, it seems, is aware of the problem. Ujwal Uke, principal secretary, women and child development, admitted that there have been several complaints about the quality of food in THR. "We have started decentralising the process of making these packets at the local tehsil-level. We have also asked district collectors to monitor the production to ensure quality is maintained."
Most children in the study found the THR inedible. Over 79% of the respondents said they feed it to animals or use it as bait for fishing. At least 11% found it so bad that they threw it away. Over 69% of the respondents said the upma tastes bitter, 22.4% said it was salty and 58% said it was stale.
A government resolution (GR) says every 16.3g of THR should have 567cal of energy. But when mothers heated it after adding water it was found to weigh 7.5g with 130cal of energy.
The study, which monitored 2,110 children in 15 villages, found that the supply of THR was both irregular (once/twice a month) and inadequate (less than 60% were getting it at all).
Dr Arun Gadre of SATHI told dna: "The government has now made community-based monitoring compulsory for anganwadis, primary health care centres and rural hospitals. After getting to know of the resistance to THR through this, we decided to carry out the study."
He underlined how, under ICDS, children (0-6 age group) are entitled to 500cal and 12-15g of protein. Undernourished children are supposed to get 800calories and 20-25g of protein regularly while pregnant and lactating women are entitled to 600cal of energy and 18-20g of protein a day.
Gadre said the government conceived THR as a way to supplement nutrition, but "that is not happening". "Ideally, children should get freshly cooked nutritious food... Despite being one of the wealthiest states in the country, almost half of Maharashtra's children are undernourished according to government statistics."
He said more children die of mild or moderate malnutrition (33,000) than of severe malnutrition (12,000). "This makes monitoring anganwadis much more important. The international trend is for every 3-4% increase in per capita income, the underweight rate should decline by 1%. But that is not happening in India."
Uke said his department had received a copy of the study. "We are going through it. Prima facie, it seems to underline freshly cooked meals are better than the THR. But any instruction on this needs to come from the Centre."