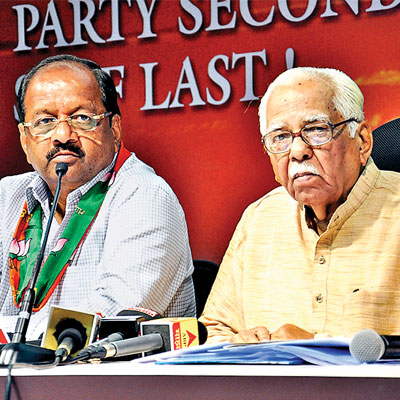 BJP's Mumbai North Lok Sabha constituency candidate Gopal Shetty has come out with a charge sheet against Congress nominee Sanjay Nirupam.
Right from alleging that Nirupam had made false claims about the Mumbai Metro to misbehaving with TV actress Smriti Irani and his entry into Big Boss, the charge sheet has several accusations against the Congress leader.
According to the charge sheet, Nirupam was an ineffective Member of Parliament and he had only raised 12 issues under special mention and only one supplementary question in the House. The charge sheet also accused him of disrupting the speeches of senior BJP leader Sushma Swaraj.
It also stated that Nirupam's behaviour did not suit that of an elected representative, citing instances such as using derogatory and vulgar languages against BJP leader Smriti Irani.
The charge sheet also pointed out that he was chosen as a member of the Rajya Sabha. However, instead of focusing on political issues, he entered Big Boss.
Even the birthday celebrations of Nirupam also figured in the charge sheet. The birthday party was organised in a plush resort in Malad and thousands of guests were served various cuisines to celebrate his birthday.
Shetty claimed that Nirupam had invited President Pratibha Patil for laying the foundation stone of the Metro-2 Project, but not a single inch of development work has started. Even the suburban railways were neglected by Nirupam and that he had promised more trains from Dahisar, Kandivli and Malad. But no new trains were introduced.
If all this was not enough, the charge sheet also stated that Nirupam had carried out superficial protest against hike in electricity rates and that too close to the elections. Besides, it did not yield results and the government did not reduce the electricity tariff.