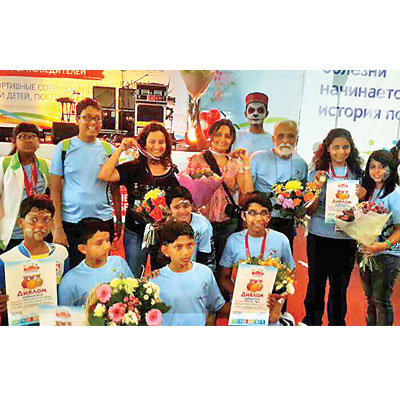 The air was jubiliant with the sweet aura of victory at the arrival of Mumbai airport on Tuesday as the victorious Indian contingent returned from Moscow. Ten children from the city have made the country proud by bagging eight medals at the World Children's Winners Games held in Russia, for cancer survivors.
Over 500 children across the world were participating in six games – rifle shooting, swimming, running, chess, football and table tennis. Ten children from Tata Memorial Hospital in Parel participated in the games and bagged three gold, silver and four bronze medals from 60 medals and winning positions that were up for grabs at the games.
Twelve-year-old Shreenidhi Prabhu, had contracted stage four cancer in the stomach at the age of one. After undergoing surgery for removal of tumour and subsequent treatment at Tata Memorial for over four years, he is cancer free now. An athletic boy by nature, Shreenidhi won three medals. "I bagged a gold in table tennis, a silver in football and a bronze in running," triumphantly said Shreenidhi.
In 2010, the first international games for cancer survivors took place in Moscow. "The Winner's Games are more than a mere athletic event. They are a celebration for those children, who have won their victory over the illness. All our young participants had some life threatening disease that took a toll over them and their family. These children have completed their treatment and have a whole life ahead of them," said Amita Bhatia, a volunteer at Paediatric Oncology department of Tata Memorial Hospital.
Sagar Parmar (13), used to play cricket very well and was zeroed in for the national Indian team for under 14 boys. He was heartbroken when he realised that the Ewing's Sarcoma, a form of bone cancer in his leg led to his disqualification from the team. "I realised my limitations and alternatively started practicing chess and air rifle shooting," Sagar told dna.
Sagar lost his medal in air rifle shooting by a whisker but gained oodles of confidence when it came to his shooting technique. "It was an amazing experience to participate in the air rifle shooting tournament. I bagged 44.2 points out of 50. I managed to learn the technique in a month. I had never held a rifle in my life before," said Sagar.
Raj Singh (13), a quiet and a demure boy by nature is a firecracker on the football field. In 2005-06 he was detected with throat cancer. After over a year of treatment, he was cured and ready to take on the field again. He emerged triumphant and bagged a bronze medal for his team. "I have been playing football since three years at school now and it feels great to have won on in international games," said Raj.
The Indian Medal Tally –
3 – Gold
1 – Silver
4 –Bronze
Total - 8