Businessman spends his time and money to help dispose off unclaimed bodies according to their respective religious rites. S Balakrishnan meets the good Samaritan.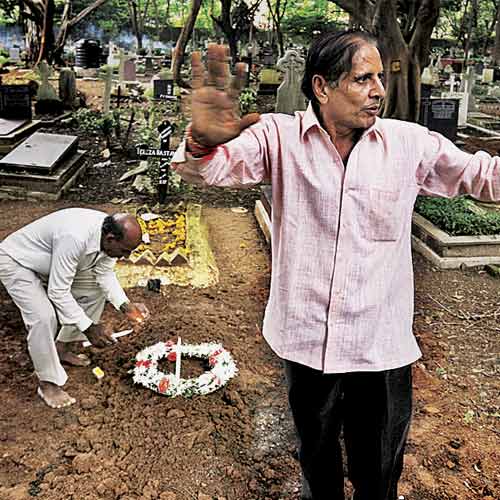 A few days ago, the authorities at the Sewree TB Hospital called up Kishore Bhatt . Bhatt was performing his pooja but he took the call. He was told that the bodies of three patients were to be cremated. He promptly went to the hospital and took charge of the bodies. He did not know the deceased, they were unclaimed but the good Samaritan that he was, he was there to make sure they were accorded their final rites.
The bodies were of a Hindu, a Muslim and a Christian and Bhatt made sure they were each given the final rites their religions demanded.
Bhatt is a businessman but has an unusual sense of duty towards humanity. "The least one can do is to ensure a decent cremation or burial to the departed persons. At least in death there should be some dignity,'' he told dna on Saturday. Over the past several years this soft-spoken gentleman has disposed off hundreds of unclaimed bodies lying in hospitals and morgues. Normally, the hospitals and morgues wait for a month for relatives to claim the bodies. If no one comes forward in that time, they inform the police and after completing the legal formalities they take call Bhatt.
Bhatt runs a small shop near Arthur Road jail selling statues. "I am a man of modest means. The income from my shop is sufficient to meet my family's requirements. The excess money I use to dispose the bodies. Well-wishers, who have seen my work, also chip in,'' he added. What prompted him to undertake this grave responsibility? "You may call it social service, but I call it god's work.
Even though I am born in an upper caste Brahmin family, I personally do not believe in caste or creed. I only believe in humanism.''
Bhatt's family is highly supportive of him even though the nature of his work keeps him away from home quite often. His neighbours say that if Kishorebhai is not at home, then he must be at some crematorium or burial ground bidding good-bye to a perfect stranger who has died in anonymity in some public hospital. The police also take his help in disposing off the dead. The cops hardly get any allowance to dispose off unclaimed bodies. The allowance given to them is not even sufficine to buy a 'kafan' (coffin) and the disposal takes time. Hence they call Bhatt whenever they have a tough task at hand.
Bhatt's telephone numbers are kept in almost all the police stations in the city. Interestingly, Bhatt does not carry a mobile. "My two landlines have served me well for the past several years. I do not need a mobile phone. I would rather use the money in required for buying a cellphone for social work,'' he said.