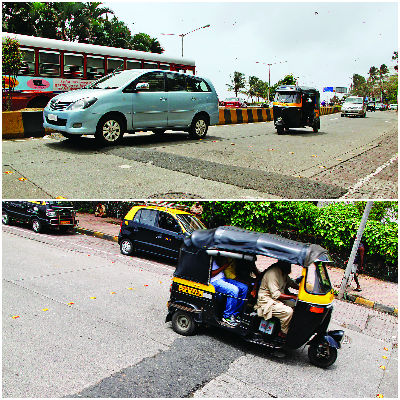 When Beverly Pinto and her sister, who were on a bike, hit a huge speed breaker on Carter Road and were tossed few feet in the air, all she could do was to thank her stars for a lucky escape from what could have been a fatal accident.
Bandra resident Pinto, who is a frequent visitor to Carter Road, was surprised that she had never spotted the road bump before the incident. "I thought I missed it in the dark. It was only later that I realised that it had come up recently," she said.
Pinto is not the only Mumbaikar who has been a victim of the speed breakers that mysteriously crop up on city roads out of nowhere. While some get away with minor bruises, the raised points at times claim limbs and lives.
In response to a public interest litigation, the Bombay High Court had in 2005 directed the Brihanmumbai Municipal Corporation to take into account the guidelines mentioned under Indian Road Congress before constructing a speed breaker.
According to traffic police records, there are 539 road bumps in the city, of which
only 358 are authorised. While activists say the numbers are grossly underreported, the situation clearly points to blatant disregard to the HC ruling.
Unlike Pinto, Vashist Gopalka, a resident of Cuffe Parade, has been fortunate enough not to have an accident, but multiple speed breakers between Badhwar Park and her house has already done enough damage to his car.
"The huge, triangle-shaped speed breaker on that road hits the hulk of my car every day, lending it multiple scratches now," Gopalka said, adding that no vehicle can pass by that speed breaker without getting hit.
Gopalka's frustration is justified. "The speed breaker is neither painted nor does it have reflectors. What's more, it has a pothole on its top."
As per IRC norms, speed breakers should be painted and have reflectors. They should have certain height and width. A civic official said whenever a ward office receives an application for a road bump, it is first sent to BMC's roads and traffic department and then forwarded to the traffic police for their NOC. After clearance by these agencies, the application reaches the roads department to facilitate the work.
But nearly 200 speed breakers have sprung up in the city without formal approvals. BMC officials admit that there is no proper mechanism to monitor if the required guidelines are followed by the ward while constructing a speed breaker.
"Sometimes ward officials succumb to political pressure and allow construction of road bumps," said the official. Another official said, "For some politicians it is a status symbol to have a speed breaker in front of their homes."
BMC officials say they receive at least 10 to 12 requests for construct speed breakers a month, while three to four complaints for removal reach them in the same period.
Prashant Sapkale, assistant municipal commissioner of H west ward, said the speed bumps built by the ward are as per guidelines. "If unauthorised speed breakers are brought to our notice, we demolish them."
Borivli resident Jugal Mistry and his neighbours have taken upon themselves to paint a speed breaker that came up opposite his residence just a month ago. "Every night, we hear screeching sounds of vehicles. Fortunately, there has been no mishaps yet, but why take a chance," said Mistry.