Long-distance train tickets remain in the realm of the near-impossible as touts and railway employees corner a major chunk, especially during the festive season when most Mumbaikars take a vacation.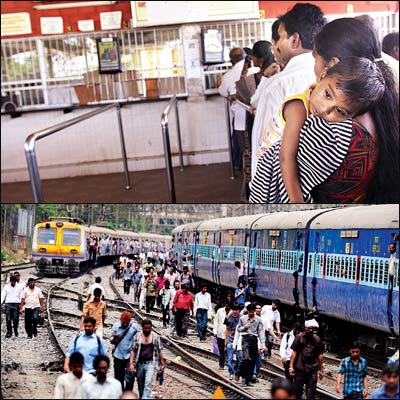 Getting a confirmed ticket on a long-distance train is like winning one of the biggest lotteries in the country. And in a city like Mumbai with people from all over India, who hope to spend their vacation in their native villages, the odds just get beyond comprehension.
Coming fresh off a year when all the three railway networks serving the city—Western, Central and Konkan—created new records in the number of special trains they operated and the coaches they added to the existing trains, the reality, officials agree, did not change a wee bit from last year.
WR ran a whopping 5,224 special trains in 2013, a 136 per cent increase from the previous year; CR operated 997 special trains and added 6,046 coaches, and KR operated 844 specials, carrying a record 12 lakh passengers.
Tickets on long distance trains getting sold out minutes after the reservation counters open with touts cornering a decent portion on offer, and special trains getting delayed on congested routes was the story Mumbaikars saw yet another year. On a normal day, CR has around 63,000 tickets from Mumbai, and WR around 50,000 tickets, inclusive of all classes.
A variety of factors go into ensuring that despite all record-breaking feats by the railways, when it comes to getting a ticket, a lottery is a better proposition.
Migration:
With too many migrants around, it's natural that the demand for reserved tickets remains high. "It would have been easier if Mumbai had an equal representation of migrants from all parts of the country. Here, the vast majority are from states like Uttar Pradesh and Bihar, and rail routes to both these states are congested beyond compare at the moment," said an official.
Festival rush:
The city's travel pattern is a captive of its festivals. So, when it is Diwali, the Western Railway routes see record-breaking crowds. And during Durga Puja, the Central Railway lines that take people to the east and north-east are jam-packed; the Ganpati fest sees CR trains to Maharashtra hinterlands packed to the brim, and Christmas and New Year's Eve put just as much load on Konkan Railway's Mumbai-Goa sector.
"The long-distance madness would have been less pronounced had the travel pattern of Mumbaikars been the same all year round. Here, the bulk of travelling takes place during festivals, and that too just about a week before the festivities," said a senior railway official.
Konkan Railway single line:
Despite a huge number of people in Mumbai being from Konkan, the rail network's single line in that direction is a logistic disaster. KR's 39 pair of trains everyday take the load from Goa, Karnataka and Kerala, the three states from where a sizeable number of people have made Mumbai their home. Last year, despite KR operating 844 special trains between January and December, and adding 1,724 coaches to the existing trains—both records for the rail line—confirmed tickets were as much in short supply as earlier.
Railway employees:
With former Railway minister Mamata Bannerjee allowing all 13 lakh railway employees and their families—a maximum of four—free travel in AC classes on their passes, the chance of the common man getting reserved tickets has gone down several notches.
Railway employees are divided into four categories—A, B, C, D—and Class A and B employees can travel on 2nd or 3rd AC six times a year with their families. Class C employees can travel in 3rd AC three times a year with their families, and Class D can travel once a year in 3rd AC with their families.
According to April 2011 data (three months after Bannerjee's order) available with the Railways, of the 70.86 lakh tickets sold from Mumbai's passenger reservation system, around 2.01 lakh or 2.8%, were given to railway employees, The cost of these tickets—at Rs 13 crore—was about 6.8% of the total cost of Rs 190.27 crore.
"Our studies show that railway employees and other Mumbaikars tend to travel out of the city almost in an identical pattern, and so, the chances of others getting a confirmed ticket reduce to a considerable extent," said an official.
With WR''s Mumbai division having 28,000 employees and CR's having 37,662 employees, the number of claimants for the limited AC tickets during peak season is sizeable.
Record-breaking spree:
Western Railway
Special trains between April and December 2013 – 5,224.
Extra coaches added between April and December – 4,952.
New trains started as per last year's budget – 22 out of 24.
Trains per day from Mumbai Central, Dadar and Bandra – 65.
Central Railway
Special trains between April and December 2013 – 997.
Extra coaches added between April and December 2013 – 6,046.
New trains started as per last year's budget – 11 out of 12.
Trains per day from CST and Kurla LTT – 104.
Konkan Railway
Special trains between April and December 2013 – 844.
Extra coaches added between April and Dec 2013 – 1,724.
Number of trains per day – 39 pairs.
Employees:
WR: Total – 1,20,000; Mumbai – 28,000.
CR: Total – 1,29,201; Mumbai – 37,662.
Free travel policy:
Class A: 6 times free AC travel with family (7,100-odd officials).
Class B: 6 times free AC travel with family (6,700-odd officials).
Class C: 3 times free AC travel with family (4,45,000 employees),
Class D: 1 times free AC travel with family (8,65,000 employees),
Class D: also gets 2 times free sleeper class travel per year.
Earnings from passenger trains:
WR: Rs 3,357 crore.
CR: Rs 3,057 crore.
VOICES
Amit Thakur, Mira Road
Despite all efforts to curb this practice, touts keep cornering a vast majority of long-distance tickets, and so normal passengers have to pay more than double the fare to get confirmed tickets. The situation in trains going to states like Uttar Pradesh and Bihar is pathetic.
Dharmesh Hingu, Andheri
The railways should give wide publicity to the special trains they operate during festival seasons. The boards at reservation centres is confusing. And I strongly believe touts get to know of special trains much in advance.
Ashmi Bhanushali, Mulund
Many people have stopped visiting relatives in their native towns during festivals because getting confirmed railway tickets in that period is near impossible. And not everyone can afford flight tickets, which are also highly over-priced during festival seasons.