Trials in initial phases globally, may hold promise after 5 to 7 years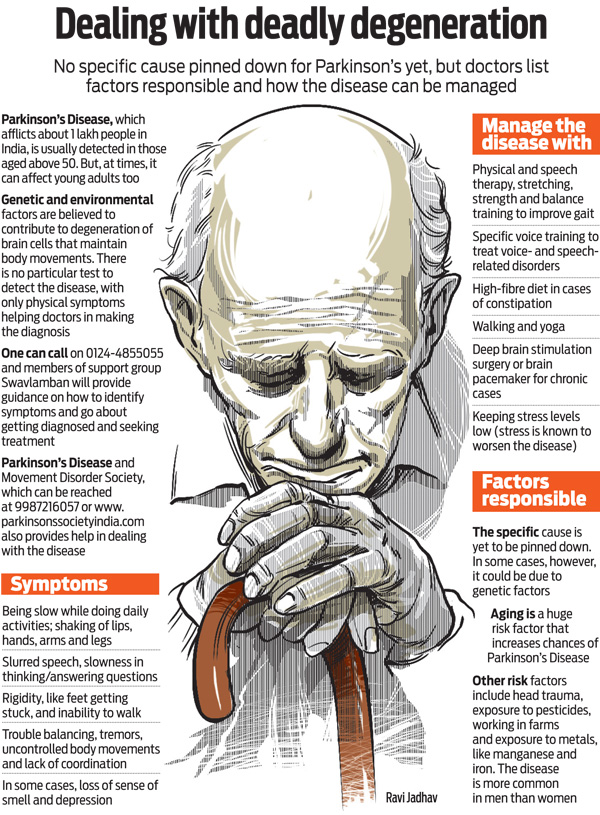 illustration by: Ravi Jadhav
Stem cells and gene hold promising treatment options for Parkinson's Disease, say doctors across the globe, including those in Mumbai.
Eleven trials to test stem cell and gene therapies for treating the disease are currently underway. In Mumbai, however, only two out of these 11 trials were being done — resource constraints led to one being canned and regulatory hurdles have put the other one on hold.
Currently, neuro-augmentative therapies, such as usage of drugs or deep brain stimulation (DBS), are being used to treat Parkinson's Disease. "The future holds hope for neuro-restorative therapies like that of stem cells or gene infusion. Stem cells are the very primary kind of cells which can take on the function of any body part's cells after their infusion with that body part. It (the treatment) involves restoration of brain function to normal. In the next five to seven years, this may pave the way for the future," said Dr Paresh Doshi, neurologist at Jaslok Hospital on Peddar Road.
Doshi said trial of Duodopa therapy, which involves infusion of an active ingredient gel called Levodopa in the intestines, has been kept on hold. Jaslok Hospital was the only centre in the whole of Southeast Asia that was running the trial.
"Levodopa gets converted into dopamine in the body. Normal levels of dopamine control Parkinson's Disease," said Doshi.
A trial to infuse stem cells from the patient's body into the patient himself/herself had been underway in a small group of patients in India, but it had to be stopped due to the inability to recruit more patients.
Doshi said, "We could only recruit four patients for two years. However, a similar trial is underway in China and another trial, which explores adipose tissue stem cells, is underway in South Africa."
In January, medical journal The Lancet reported that after 16 years of trials, gene therapy is showing promising results in humans. "Three genes that promote the formation of dopamine-generating cells in the brain were injected in the brain, bound with a viral vector, in 15 patients. ...dopamine... becomes deficient in patients with Parkinson's," The Lancet report stated.
Three patients from the UK and 12 from France in advanced stages of Parkinson's Disease underwent an operation, wherein the virus with the three genes was injected in their brains. The patients, who had become stiff due to the disease, showed a 30% improvement in their movement after the surgery. After four years of follow-ups, they continued to improve and dopamine kept on being produced in their brain, in parts where it was not being produced before.
"Presently, there is no established stem cell/gene therapy for Parkinson's Disease or any other neurological disorder. However, I am quite sure that in five to seven years, we will have neuro-restorative therapies available for many such diseases," said Dr Alok Sharma, head, neurology at Sion hospital.