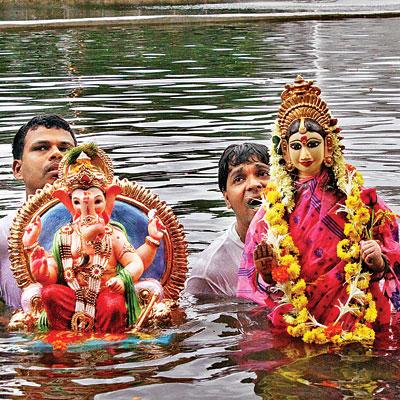 While Lord Ganesha is the most talked about God this season, on Tuesday, it will be his mother, Gauri, who is grab all the attention. She will be present in everyone's homes today, sitting right beside her son.
Unlike Ganesha, who is a guest, Gauri is considered to be returning to her mother's house for some time, so the event is a home-coming. She stays for three days and is then immersed along with Ganesha. In some houses, it is only she who comes during the Ganesha festival season. But unlike Ganesha, she is never immersed.
"We do not get Ganesha, only Gauri during the Ganpati festival. We have a mask of Gauri that is removed from the safe as per tradition and her other body parts assembled. She is then prayed to for three days," said Milind Ghate, resident of Bandra.
During the second day, delicacies like pooran poli, varan bhaat and vegetables are prepared in homes. "Earlier, the tradition was to make 16 vegetables. But those days do not exist anymore," said Ghate. Those who prepare non-vegetarian food make vegetable dishes for Ganesha and fish curry or some other delicacy for Gauri.
"On the last day, the Gauri mask is moved from its place and she is dissembled. When we bring her home, we also get five pebbles (paan khade) for the rituals. These are placed alongside her for prayers before they are immersed," said Madhuri Inamadar, a resident of Borivili. Inamdar makes a point to mention the eco-friendly ways in which the family celebrates Gauri and Ganesha. "We take the idol and the pebbles to an artificial pond for immersion. The floral tribute is placed in a pot," she said.
The Padalikars, who live in Bandra get only round stones instead of installing the idol at home. "In our house, we pray to the stones. They are finally immersed with the Ganpati on the third day after Gauri comes home," said Uday Padalikar.