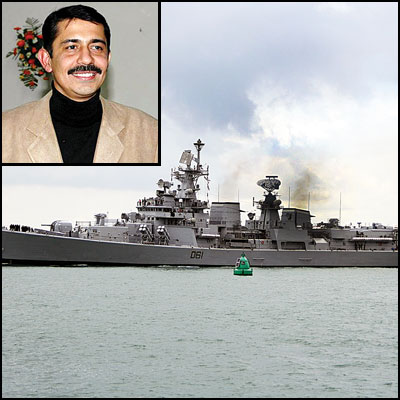 In the 11th in a series of recent accidents involving Indian naval vessels with frightening regularity, a naval commander died and one person was injured on Friday following a gas leak on a Kolkata Class destroyer at the Mazagaon dock where the ship was in the final stages of construction.
A carbon dioxide cylinder burst and its valve hit Commander Kuntal Wadhwa. The carbon dioxide gas that leaked suffocated the Commander.
The ship, which is undergoing machinery trials at the Mazagaon docks, is one of the most modern destroyers in India's fleet of warships, expected to be commissioned in the next two months. MDL spokesperson Parvez Panthaky said the ship will be known as Kolkata Class 'Yard-701' once commissioned.
Friday's incident happened around 1pm, when the first valve attached to a carbon dioxide cylinder burst and hit 42-year-old Wadhwa. "He immediately fell to the ground unconscious. After this, carbon dioxide gas leaked resulting in utter chaos. An injured Wadhwa was suffocated," the official said. The fire-fighting system too failed.
Aslam Gafar Kazi, 51, an employee of MDL suffocated and is now being treated at the Prince Ali hospital in Mazagaon.
Krishna Prakash, additional commissioner (south region), said: "The Yellow Gate police have registered a case of accidental death in connection with the incident. Investigations are on."
The Indian Navy is without a chief for the past 10 days. Admiral DK Joshi resigned on February 26 owning moral responsibility after two officers suffocated to death inside the INS Sindhuratna, off the Mumbai coast, when the submarine caught fire.
The 7,000-tonne vessel, the lead ship of the Kolkata Class of guided-missile destroyers and designated Yard 701, was undergoing trials when the incident happened. The Kolkata Class warships are the largest destroyers ever to be built at the Mazagaon docks. The premier defence manufacturing shipyard builds warships, submarines, offshore platforms, and tankers for the navy.
The warship's commissioning has been delayed by six months after technical problems surfaced during sea trials.
The under-construction warship was laid down in September 2003 and floated in March 2006. Two sister ships, INS Kochi and INS Chennai, too are being built at MDL.