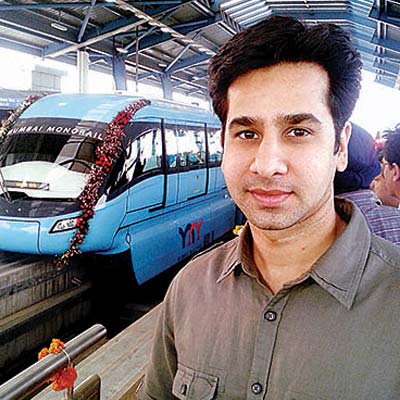 The excitement was palpable. Hundreds of Mumbaikars waited patiently in steadily moving queues at Wadala depot early on Sunday morning to experience the latest and most colourful addition to the city's public transport – Mumbai Monorail.
The journey from buying the tickets to getting into the rake was smooth as the polite staff efficiently handled the gradually increasing flow of passengers. Once inside the coaches, chants of Ganpati Bappa Morya rent the air.
As the rake began moving a little past 7am, loud cheers and whistles filled the air as if a group of schoolchildren was going on a picnic. People ready with their phone cameras anticipated a pleasant view outside but were disappointed. If there were slums on one side, the other was dotted with not-too-impressive buildings. Only the Eastern Freeway and a couple of playgrounds looked good from the train.
The ride, too, was far from smooth. It was impossible not to feel the jerks on the 9-km stretch during the 20-minute journey. One got the feeling that a car was being driven on a bad stretch of pothole-riddled road. The only solace was the air-conditioned coach. Sadly, that too was an issue during the return journey. I had to put my hand near the vent to check if the AC was working. A couple of sharp curves left me worried because I felt the rake tilt so sharply that it would fall.
One can call them teething problems, but the services were not running on time and some indicators too did not give details of timings. Also, not issuing return tickets did not make sense because people had to stand in queues again. The arrangements though were decent and the crowd behaviour was at its best – a rarity while using a public transport in Mumbai. The stations were clean and inter-connected coaches meant there was enough room for everyone. However, the real test will be during peak hours when people will jostle for space in the four coaches.
The Mumbai Monorail is a welcome addition to an overpopulated and fast-paced city like Mumbai. It offers travel at convenience and at a very reasonable rate. The authorities have assured that issues would ease out in due course. If that happens, the monorail will prove to be a boon for Mumbaikars.