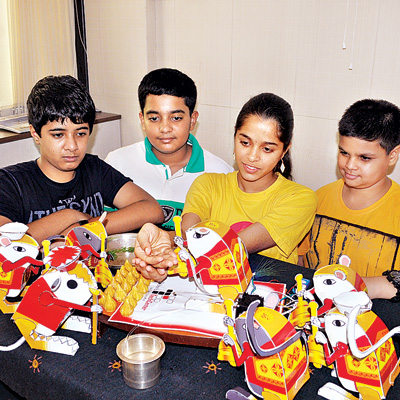 The city is enthusiastically gearing up for Ganeshotsav, and so are four students from Children's Tech Centre in Thane. The latter, however, have a hi-tech celebration on mind.
Shaunak Sawargaonkar, Aneesh Kulkarni, Shambhavi Joshi and Arnav Gadre have developed a robotic Mushakraj that chants mantras after offering naivedya and gives teerth prasad as well.
Talking about their invention, which they developed in three to four days, they said it was an idea they had been mulling over and working on for the past 15 days, and that they were finally able to execute it under the guidance of their director Purshottam Pachpande.
"The robotic Mushakraj can recite mantras in Sanskrit... the mantras have been recorded, transferred to a computer programme and then integrated into an IC chip. With respect to offering teerth prasad after naivedya, a censor is placed below the Mushakraj, which senses the naivedya, and follows it up with the mantras and prasad," the students said.
Talking about the best feature, Pachpande said, "The complete body is made of paper, it's eco-friendly. The entire technical system is supported by four pencil batteries, and it cost Rs350 to make the Mushakraj."
The robotic Mushakraj does not need anybody's support to function. The only thing one needs to take care of is to make sure the utensil containing prasad is full.