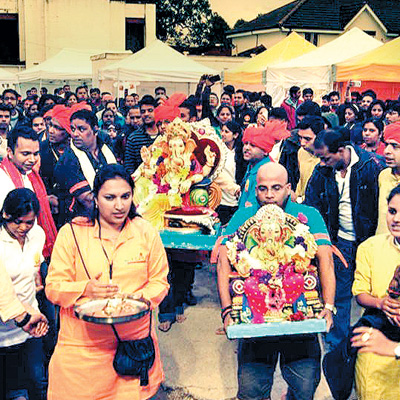 As Mumbai and other parts of Maharashtra are getting ready for the 10-day Ganpati festival starting August end, a group of Mumbaikars settled in London, has also gearing up.
A two-foot long, eco-friendly idol of Lord Ganesha made by Thane-based sculptor Surendra Rasal was flown to London on Tuesday for the festival. There, the fest is being organized by the Indian community at Laxmi Narayan Temple in Hounslow, West London on August 29-30. This idol, which is made from newspaper, will be placed next to the main Ganesha idol at the temple.
Almost 4,000 devotees are set to attend the two-day program organised by the Hounslow Ganeshotsav Mandal (HGM). This 4 kgs idol will be immersed in River Thames after a lively procession involving a cavalcade of coaches and cars.
"It took over five months to prepare the idol,"says Rasal, 63, an amateur artist who learned the art after voluntary retirement from Philips in 2000. "I wanted to learn idol-making since childhood but couldn't find the time or opportunity. The first thing that I did after the VRS, was to enrol at the Raheja college of Arts," says an ecstatic Rasal, who got the order of the HGM via his daughter, who lives in UK.
Interestingly, Rasal has prepared only seven idols till date and this idol was his first attempt to prepare an eco-friendly, lightweight and unbreakable Ganesha.
Vaibhav Raorane established the HGM in 2008 and soon brought on board the other committee members: Mahesh Shetty, Janhavi Kulkarni, Nitin Parte and Shreyas Kale, all Mumbaikars. The group now boasts of many more members from India and across the world.
Raorane, who works at a hotel and runs a business in London, spoke to dna over the phone, saying, "We started this festival from a 3 bedroom house as we were missing the fun. Today, this festival has been a phenomenal success and has reached great proportions."
The festival at Laxminarayan temple is now regarded as the largest Asian event in London. "Several extracurricular activities like a fancy dress, singing and dancing competitions for all age groups are scheduled, making this event a family gathering – just like we have in Mumbai," says Vaibhav.