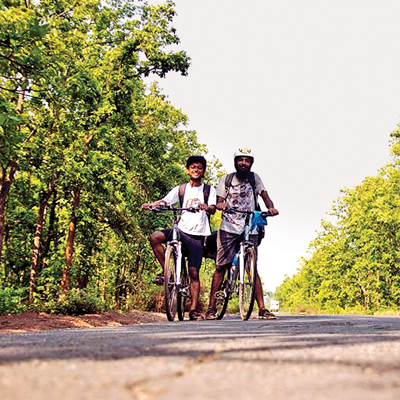 Two amateur cyclists are on their way to Mumbai, 2,500 kilometres from Kolkata, where they began their journey as their own form of protest against child labour. Dna spoke to Ujjawal Chauhan, 23, and Siddarth Agarwal, 22, on Wednesday. The two who began their journey on May 27, have crossed Bengal, Jharkhand, Odisha and Chattisgarh, and were close to Pune.
Ujjawal,a fourth-year student of naval architecture at IIT Kharagpur, has been a volunteer with Child Rights and You (CRY) for many years. Sidarth, a fellow student, is pursuing aerospace engineering.
En route, Ujjawal and Siddarth randomly stopped on the road where they witnessed chidlren working and tried to reason with them and their families. The cases that they encountered often leave them shaken, they said. They saw children working in mining quarries, road construction, lodges and dhabbas, brick kilns. They met 11-year-old Puja Mali, who would work in a brick kiln for 15 hours everyday, with her family in Ahmednagar. "The dust emanating from the kiln causes asthma and other respiratory problems. The family produced 1,000 bricks and were paid Rs 500 a day," said Ujjawal.
The duo has targeted to raise Rs 1,50,000 in funds towards rescuing and educating children through the road trip. "While I have raised Rs 65,000, Ujjawal has raised Rs 52,000 in the past month. The proceeds will go towards a micro-lending platform which helps villagers start small businesses. Also, it will ensure that rescued child labourers across 12 villages in the country will be enrolled in school," said Siddarth.
To donate to the campaign, visit here