Then came the end moment for his long-time mentor Bal Thackeray, but Rane was nowhere to be seen amid the bevy of politicians and Bollywood stars descending on Matoshree to see the critically-ailing Thackeray.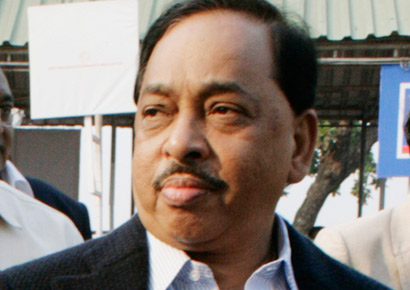 Only some years after his mentor propelled him to the highest seat of power in Maharashtra, Congressman Narayan Rane parted ways with him. From being one of the most loyal Shiv Sainik, he began priding himself on attacking his erstwhile organisation — the Shiv Sena — both politically and in public. Then came the end moment for his long-time mentor and Shiv Sena founder Bal Thackeray, but Rane was nowhere to be seen amid the bevy of politicians and Bollywood stars descending on the Thackeray residence, Matoshree, to see the critically-ailing Thackeray.
However, Thackeray's death opened the floodgates of emotions for Rane, who has now sought deep forgiveness for missing out on probably one of the biggest funeral processions Mumbai has ever seen. In fact, so overwhelmed was the Congressman that he expressed his pain in his family-owned newspaper Prahar, saying, "Watching the news of respected Shri Balasaheb Thackeray's demise on television, tears flowed from eyes as I was struck by several emotions. I remembered the many times I had spent with him."
Stating that Thackeray was not bothered if his party was in power or not, Rane said, "He continued living and speaking the way he always had – in his trademark royal style and with the same zest for life. I felt pride in declaring that such a man was my guru. Saheb, I will always regret the fact that I could not meet you as your life was ebbing away."
Recalling how saheb was a fount of kindness, Rane termed Thackeray as "a beacon of hope for the Marathi manoos and a staunch Hindutvavadi" for establishing the Shiv Sena in 1966, at a time when Mumbai needed such a party. "The love and kindness he showered on Shiv Sainiks ensured that his party workers would pledge their lives for him as long as they lived. He took care of his people, asked after them in times of grief, thus making him the darling of his party workers across Maharashtra," added Rane in the obituary he published in Prahar, a newspaper he formed recently to consolidate his politics in the state.
"Apart from showering immense love, he also trusted me implicitly," wrote Rane, while admitting that a lion's share of his political success is because of Thackeray. Rane offered heartfelt thanks to 'Saheb' for aiding his journey from being a Shiv Sena shakha pramukh to the first Sena chief minister to leader of opposition. "I will run out of paper before I am fully able to describe the time I have spent with him and the love he showered on me for 45 years," wrote Rane.
Terming him a "courageous and insightful leader", Rane said Thackeray proved his cartooning and writing prowess as the editor of Marmik and Saamna. "His wily political sense always pulled the Sena out of any crisis," Rane added.
Rane, whose absence was conspicuous at Thackeray residence during the patriarch's final moments, lamented the decision to wait and watch as his father figure lay dying. "I kept thinking that this time, too, he would cheat death and get better, but he passed away," wrote Rane a day after Thackeray's death.
His mentor's death, however, brought back memories of the bitter political feud that followed his decision to leave the Shiv Sena in favour of the Congress. "I regret having taken the decision that caused him a lot of hurt, but in the circumstances then, I had no choice but to take that decision. Saheb, you loved me more than my own parents did. You called me on the phone twice after I had left the Shiv Sena. What a big heart you had!," wrote Rane in his obituary to the Sena founder.
Narayan Rane is the Industries Minister in the current Congress-led government in Maharashtra. He also served as the State's Chief Minister for eight months when the Shiv Sena-BJP combine was in power.