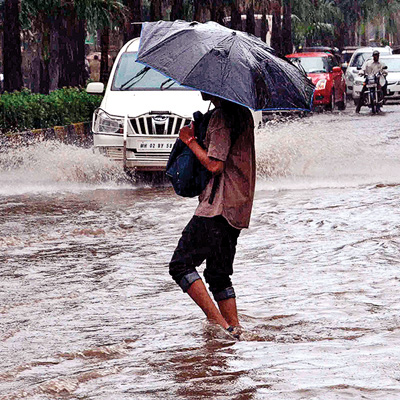 There were major traffic snarls in parts of the city on Monday, as rain showers revived, flooding low-lying areas and a few trees were knocked down by strong winds.
While there was little rain in the first half of the day, the skies were overcast in the afternoon. The rain came down through the evening, holding up commuters returning home in traffic jams.
Water logging was reported in many pockets and motorists complained of traffic congestion in Sion, LBS Marg, Jogeshwari, Andheri and on the Western and Eastern express highways.
The traffic police said there were blocks due to waterlogging at Parel, Worli, Matunga, Bandra, on SV Road and Link Road.
"In the morning there was scanty rainfall so traffic was not affected. But the heavy rain that began in the afternoon and continued late evening resulted in waterlogging and this affected motorists," said a traffic police officer. Extra traffic personnel were sent out to manage the movement of vehicles in several areas.
Motorists shared information on the social network about the situation in various areas. Anjali Dureja said on Twitter said she was delayed by 15 minutes due to waterlogging outside Sion station.
Prashant Mishra said there was waterlogging in front of CJ House towards the sea link. 'Raj-Mumbai-Goa' tweeted: Heavy traffic on JVLR, starting from L&T flyover till Kalpataru complex. Waterlogging on right hand side first lane.