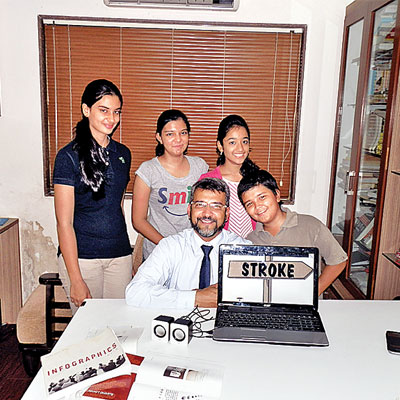 Four South Mumbai students wanted to spend their summer vacations effectively.
So, they made videos to make people aware about various health issues like mental illness and kidney ailments and uploaded them on YouTube. Needless to say, they have become a hit online.
City doctors have decided to take their help and are hiring them to give presentations to patients.
Fatema Bhinderwala, student of St Anne's High School who has just appeared for her SSC exams said, "I wanted to do something constructive in my vacation as my father had said that an idle mind can lead to depression. Since I want to become a doctor, I thought of exploring the idea of making presentations and videos that can spread awareness on various ailments. I spoke to my friends and they too agreed."
The group's first assignment was for Narmada Kidney Foundation, where they made a presentation for End Stage Kidney Disease patients to help them understand treatment options including dialysis and renal transplant.
This was followed by them making videos on psychiatry illness and stroke. "The psychiatry illness has got more than 630 hits online and the one on stroke has got 500+ Likes. We approached many doctors, who liked our work and are encouraging us with more work," said Tasnim Telwala, who is a student at Hinduja college and recently gave her11th std commerce exam.
Tahir Bhinderwala, who is the youngest in the group, has just given his 6th std exams and is helping the girls with video editing. "I learned it from my father and when I saw my sister and her friends working on videos, I volunteered," said Tahir.
Presently, this team is working on sleep hygiene and their next few videos should be released soon. The group is also preparing presentations on gynaecology-related problems like excessive bleeding, hypertension, etc. "We are having fun doing this and it has been a learning experience. At the end of the day, we have acquired new skills and are more employable in whatever stream of education we pursue," said Diya, who has also given her SSC exams.