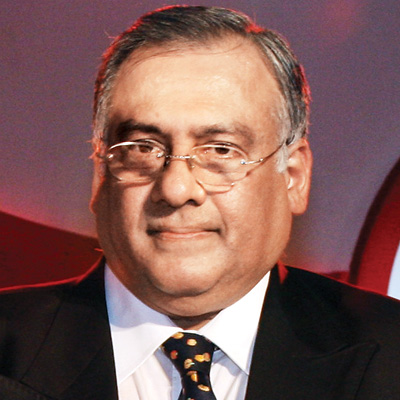 Former attorney general Goolam Essaji Vahanvati, 65, passed away on Tuesday evening after a massive cardiac arrest at Kokilaben Dhirubhai Ambani Hospital (KDAH) in Mumbai.
Dr Ram Narian, CEO, KDAH said, "He was brought to the hospital on Tuesday morning with complaints of chest pain. He had a massive cardiac arrest. Doctors tried to revive him but he was declared dead at 5pm."
Vahanvati was the first Muslim to become the attorney general of India in 2009. He stepped down as the AG after the BJP won the April elections.
Vahanvati, who was associated with the high court since 1972, was designated as a senior advocate in 1990. He then became the advocate general of Maharashtra in 1999 and solicitor general in 2004.
He is survived by his wife, daughter and son, Essaji Vahanvati, who is a partner at AZB & Partners Mumbai.
In April 2013, Vahanvati's role in the government came under scrutiny after allegations of impropriety and coercion emerged from his junior law officer, Harin P Raval, who resigned from the post of additional solicitor general.
Speaking to dna on the 150th celebration of the HC, Vahanvati had said how the situation had evolved over the years and how he used to spend over 18 hours researching for his matters. "There were giants like JC Bhatt, Ashok Sen, under whom I had worked. They were task masters, I remember working for 18 hours a day, researching and referring to reach a judgement, which could help me," he had said.
Lawyers, who had worked with him and saw him argue said that he was very elegant and never lost his temper. "He would never get provoked by the opponents' arguments. He remained calm and made his point," said Jamshed Mistry, an advocate.
Condolences from legal fraternity and others poured over the social media when news of his death was declared.
Vahanvati had represented the central government in several high profile cases in the Supreme Court be it the 2G scam, coal scam or mercy plea of convicts of former prime minister Rajiv Gandhi.
TWEETS
Prithviraj Chavan @prithvrj
Sad to hear of the passing away of Former Attorney General Goolam Vahanvati . Deepest condolences to his family.
Shaina NC @ShainaNC
My dear cousin GOOLAM bhai I will miss you always. Remember u fr yr brilliant mind and as attorney General india@arunjaitley @PMOIndia
My beloved cousin legal luminary former Attorney General of India GOOLAM VAHANTY just expired. God bless his soul.
Susieben Shah @shahsusieben
Goolam Vahanvati has been a doyen of the legal fraternity and his death comes as a shock to us all. I pray for strength to his family to overcome these tough times.