he Art Loft is leading conversations about artin the Western Suburbs' most popular cultural haunt, Bandra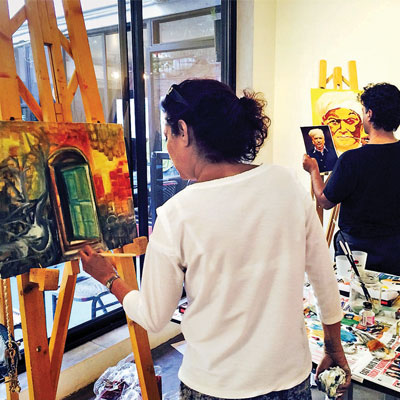 Imagine walking into an oasis of calm in the midst of Bandra's chaotic suburban life. A garden, blocked from the main road by high walls and shielded by a canopy of bamboo and creepers. An indoor space that has enough room for pottery workshops, salsa classes, art therapy sessions and the odd photography installation.
The Art Loft (TAL) is such a place, located on the relatively quiet Waroda Road, right behind St Stanislaus School. Primarily an art space, it is also a "versatile, informal and experienced space to explore art in all its forms". It was started by Grégoire Berri, his wife, Leïla Tayebaly and her brother Kevin.
"It initially began as a base for Leila's art therapy classes," says Natasha Singh, in charge of curation at TAL. At the time, they also sent out invitations to people to come and share what they were doing. Soon, it became a hub where one could learn everything from making scrapbooks, photography, drama to coffee tasting. "It has since progressed to a place where one can experience different conversations surrounding art. It was art in all its forms and shapes," adds Singh. TAL wanted to make art accessible to everyone, to let people believe that art is something that can be done or created by anyone.
TAL was earlier located near Mehboob Studios before they shifted to their current location. The increased space (1,500 sq ft) gave them a chance to build on Leïla's dream of starting her own café—Komabava. Its cuisine is largely influenced by Leila's upbringing on Reunion Island and features (Indianised) healthy Creole food. "There is a wellness angle to art therapy, so we try and integrate that everywhere else too," says Singh.
TAL has opened their space to people to conduct their own classes. At any given time, there are acting classes, theatre rehearsals, music classes for children, salsa classes and exhibitions going on. TAL hosts one workshop of their own every month—be it pottery, découpage or the upcoming one on hatha yoga. They often get professionals from different fields to conduct these workshops.
On a quiet afternoon, Samit Mehra* can be found working furiously on his laptop. A writer, Mehra comes to enjoy the peace (and unlimited wi-fi) at TAL. He first came here a few months back and was very impressed with the art on display. "It was impeccable," he says. He has kept returning since to enjoy the vibe and sometimes play a silent spectator to whatever is happening there.
Bandra was the suburb of choice. Singh shares, "Without Bandra, we would not exist. There is such an eclectic crowd here and they are always looking out for new experiences and new avenues of entertainment. It is not just about going out." She believes that the increase in the number of art and design spaces has contributed to people's increased curiosity in learning about the arts. The avenues may be less but the interest has increased. The future for TAL will involve a few conversations around food.
For more details, visit theartloft.co.in.
*Name changed on request.