Footballtennis or futnet is not a fantasy sport idea, but a century-old sport played at an international level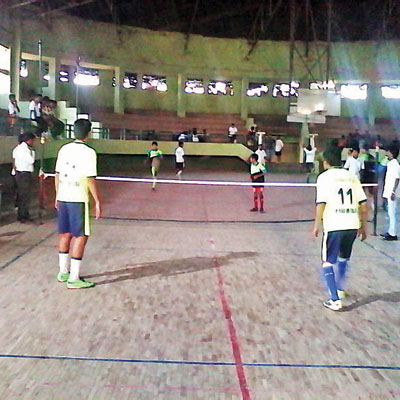 INTRO:
Footballtennis, also known as futnet, is a ball game popular in many European nations. Usually played on an 8m x 12m court in single, double and triple formats, it combines the moves of football with the rules of tennis. The idea is that players serve and return a football by kicking it, aiming to win two sets, with each set reaching a minimum of 11 points.
The good news for Mumbaikars is that Cajetan Dias, 26, a resident of Dadar and an accomplished football referee, is developing this unique game at the grassroot level in the city. "I plan to conduct sessions for introducing this game in 50+ schools across Mumbai," says Dias. Having officiated in the under-19 I-League (the top level of youth football in India) and numerous other national-level competitions, Dias has proposed for the formation of MDFTA (Mumbai District FootballTennis Association), a professional league along the lines of the Mumbai District Football Association, which has around 300 teams under its umbrella.
Why footballtennis, one might ask. Dias explains, "I love this game. I aim to help footballers fulfill their dreams of showcasing their skills at an international level with the help of footballtennis. Representation at the state and national level also makes one eligible for the sports quota in education."
Every day at the St. Xavier's ground, Parel, Dias trains underprivileged children in football for free, under his initiative, Dias United Sports Club. He is now juggling this with coaching Mumbai's official footballtennis team, who won a gold medal in a state-level tournament recently. The team is now gearing up for another tournament this month. Dias also adds, "This is not a contact sport and hence, there are lesser chances of injuries. It is also a good option for footballers who have endurance issues. Midfielders, especially, are the best-suited for footballtennis."
If the co-incidence of FIFA 2014 and Wimbledon inspires you to combine the two sports, Cajetan Dias is the man for you!
Futnet is a sport that originated in 1920s in Central Europe