Mumbai Police plan five-layer security for BJP's PM candidate after the intelligence input alerted about a possible terror strike.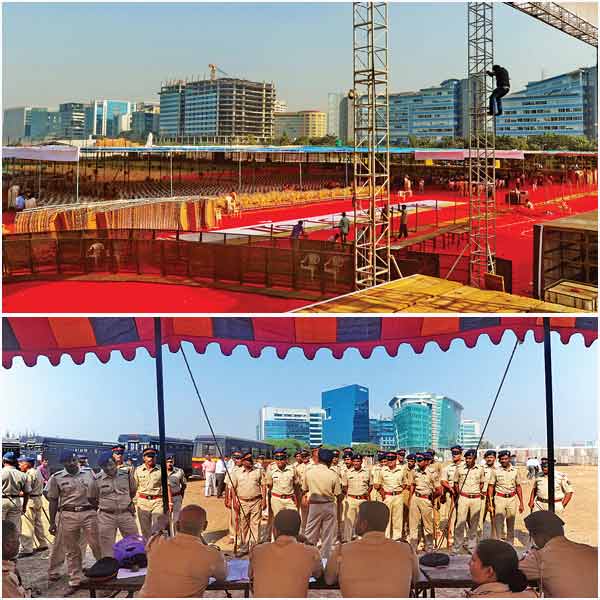 With the city police getting an intelligence input about a possible terror strike, by way of a suicide bomber, the Mumbai Police are taking extra precautions for Bharatiya Janata Party's (BJP) prime ministerial candidate Narendra Modi's rally at the Bandra Kurla Complex (BKC) grounds on Sunday.
Police commissioner Satyapal Singh said the Indian Mujahideen had tried to target Modi in Patna in October.
He said his department is not taking any chances and a five-layer security will be provided at the venue. He said everyone coming for the rally will be frisked twice. Sources said arrangements have been made such that 20 people can be checked simultaneously.
The BJP is planning to mobilise close to five lakh people, including those from other parts of the state.
Apart from fortifying the area around the dais, security will also be provided all along the periphery. Plain-clothed policemen will keep a close watch on people arriving at the ground. Vehicles headed towards the venue will be checked. BJP volunteers from the rest of the state are also expected to be present to ensure that the event is conducted smoothly. The Gujarat police are also expected to be present in large numbers.
Singh said threat perception of Modi is very high and, hence, the Anti-Terrorism Squad too has been roped in. "We are checking on anyone who has come to Mumbai in a month and has been staying here," he added.
Terming the security given to Modi as "foolproof", Singh said about 3,000 policemen have been deployed in and around the venue. In addition to that, there will be nakabandi at every point near the rally venue.
He added that the Mumbai Police have taken note of the threat from suicide bombers and there will be a Quick Response Team as well as Force One present. A Bomb Disposal & Detection Squad will also be put to work round the clock.
"A tight security cover will be provided for the rally that is expected to be attended by a huge number of people," Singh said.
The police are already under severe pressure following an Intelligence Bureau (IB) alert that a large number of Bangladeshi infiltrators are headed towards the city, apart from Pune, Surat and Bengaluru.
The infiltrators are said to be relocating from Delhi and some towns in Uttar Pradesh. The IB has said that smugglers and people indulging in human trafficking will be part of the influx of these infiltrators, who are coming in by south-bound trains from the north.
The police are planning to deploy personnel at the CST, Bombay Central and other main railway stations to take action against them.
According to police sources, the IB input was received in the first week of December. They added that apart from the railway police, the anti-terror cells of the Mumbai Police have also been alerted as they are trained in linguistic profiling. Policemen with knowledge of the Bangladeshi variety of Bengali will be deployed.
Joint commissioner of police, traffic, Vivek Phansalkar's instructions ahead of Narendra Modi's rally at BKC...
A huge inflow of vehicles is expected from Dahisar, Airoli, Thane and Vashi check nakas
Traffic policemen will ensure vehicles are parked at open spaces in BKC area; motorists are advised to use car parking lots and park vehicles in connecting roads leading to the venue
People are requested to park their vehicles a km ahead of the spot and then walk it up to the venue to avoid a bottleneck there
As a large number of vehicles will be converging at a point, no vehicles will be allowed parking on the main road leading to venue
A meeting has been conducted with the organisers and they have been briefed about the traffic issues and told to communicate with those attending the rally to ensure there is no chaos
Locals are advised to come by suburban trains for the rally to lessen traffic problems for the day
One BEST official will be in the traffic police control room to coordinate as organisers have hired BEST buses.