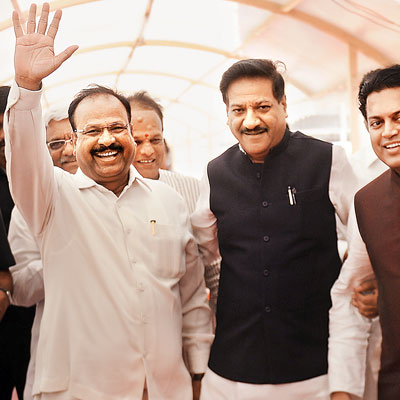 Following a day-long flip flop on Sunday, Chief Minister Prithviraj Chavan managed to induct two ministers to his team on Monday – Congress legislators Abdul Sattar and Amit Deshmukh took the ministerial oath at Raj Bhavan.
Sattar is known to be a staunch supporter of ex-chief minister Ashok Chavan, an arch rival of the CM. Apparently, the Congress high command compelled the CM to include Sattar in his team.
Earlier, the swearing-in was scheduled for 4 pm on Sunday and all arrangements had been made at Raj Bhavan, including invitation to the media. However, the function was called off at the last minute since Sonia Gandhi had not given her nod. She had even declined to meet the CM.
Amit Deshmukh is the eldest son of the late chief minister Vilasrao Deshmukh. He is closely connected with cooperative sugar factories in Latur district and is fast emerging as a leader in Marathwada region.
"The inclusion of Abdul Sattar shows that Ashok Chavan's political clout is increasing. He was forced to step down because of the Adarsh scam which ultimately turned out to be an over-hyped issue," said a Congress leader. He added that following Ashok Chavan victory in the Lok Sabha polls, the Congress leadership has no problems with him anymore.