Located in Fort, design store Filter is a retail and exhibition space that introduces you to a different side of stationery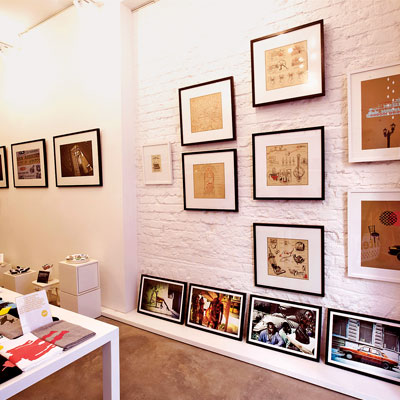 Ever wanted to insult someone while sounding smart and erudite? Shakespearean insults badges are just for you. Have a friend who always shows up late? Give him the Indian Stretchable Time watch. Know someone who is into saving the environment but loves stationery? The recycled wood pencils are just their kind. The retail store by Alok Nanda and Company (ANC), Filter, is your answer to all your stationery needs and more.
Pencils and more
Located in a quiet by-lane at Kala Ghoda, Filter is a stationery haven. It is a retail space that also works as an exhibit area housing the designs of talented artists, illustrators, photographers, and graphic designers.
The entire look is minimalistic—from the stark white interiors that give a serious art gallery vibe to the space to the actual art on display. You can easily spend hours browsing through the all-white store, reading the fine prints on the different designs, chuckling over the funny bookmarks and admiring the unique, minimalistic designs. If looking at innovative bookmarks, notebooks, notepads and paper clips is not up your alley, the store also retails lifestyle products like t-shirts, clocks, lamps and bags.
Around 50 to 60 per cent of the designs are created in-house and new products are introduced as and when the team has the time and ideas to do so. "We have everyone at ANC creating products and we accept a lot of contributions from friends and talented people we hear about," says Ajoy Advani, creative director at ANC and Filter. "The store got its name through the process of curating stuff and filtering out certain things to ensure only good designs are included."
These good designs include framed old tickets, original art prints, travel tags, a sturdy black chair filled with scribbles, recycled wood pencils from Japan, envelopes made from newspaper, quilled paper clips, pocket squares, felt bags, tissue paper mugs, wine bottle boxes, notebooks made from old dictionaries, bookplates and book ends, postcards, and even reading glasses. Some of the works are limited edition or one-off pieces, the rest are products by the in-house brand.
In search of good design
"There is no restriction on what designs one sends," says Advani. "If we like the kind of aesthetics and design and appreciate the story behind it, we will accept it." The store gets regular emails from artists interested in showcasing their work. The newest collection features jackets that combine pop art designs with traditional Indian designs.
"We are comfortable with stationery—anything to do with print and high-quality paper. It is part of our idea to get people back to writing instead of being stuck with computers and iPads," says Advani.
They recently opened their online retail space. "The store is popular with those looking at buying gifts to take abroad. Our products are a nice change from typical Indian kitsch," says Advani. He believes that Kala Ghoda is seeing a surge of people interested in good design and creative work and that has worked well for the store.