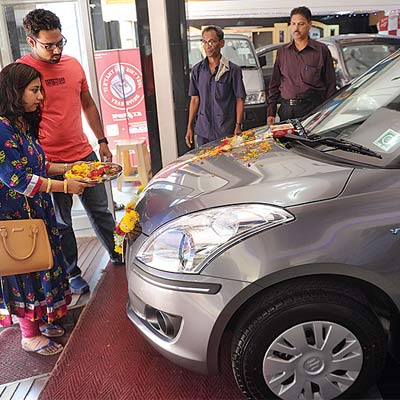 The regional transport offices in Mumbai witnessed a dull Gudi Padwa on Tuesday, with not many opting for a new vehicle.
As per statistics available, a total of 575 new vehicles were brought on Mumbai's roads on Monday, with maximum of 350 vehicles in western suburbs, while 122 of them were registered at Tardeo or the Central RTO. Only 103 of them were registered Wadala or East RTO.
A total of Rs2.20 crore was earned towards revenue by the state transport department from the three RTOs of Mumbai alone. "Every year, we keep our RTO offices open on Gudi Padwa for people desiring to own vehicles starting from this auspicious day," said V N More, transport commissioner.
Last year, a total of 827 vehicles had got registered just at the three RTOs of Mumbai, with maximum of 427 in western suburbs and the least being at 97 at Tardeo RTO.
Transport officials state that for years now, RTO for the western suburbs has been witnessing highest number of registration of vehicles on Gudi Padwa, this is possibly because concentration of people with disposable income being more in the western suburbs as compared to other areas of the metropolis.
For the last couple of years, the automobile industry has been struggling with their sales due to economic slowdown as well as inflation. Despite the cut in duty for vehicles announced during the 2014-2015 interim budget, the sales have remained sluggish. In fact people are opting for used vehicles as compared to new ones.
Gudi Padwa sales figures
RTO
2014
2013
Central
122
97
West
350
427
East
103
303
TOTAL
575
827