On Day 4 of Lit Live, Farrukh Dhondy said Sir VS Naipaul wasn't anti-Islamic, only misrepresented.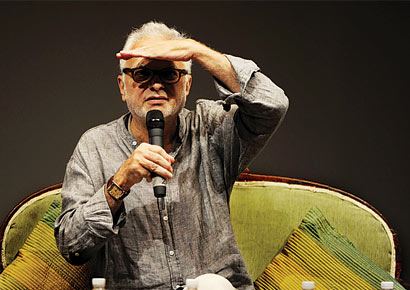 There's a timeline for this year's Tata Literature Live! — it's either pre-Karnad or post-Karnad, after the playwright Girish Karnad lambasted the festival for awarding its lifetime achievement to Nobel laureate Sir VS Naipaul on Friday.
Post-Karnad, on day 4, author Farrukh Dhondy was seen reading all the newspaper reports of the incident and bemoaning how everyone had quoted Karnad, but few mentioned Dhondy's defence of Naipaul.
When asked if he had spoken to Naipaul about Karnad's attack, Dhondy made it clear that he didn't want to be the bearer of such news, particularly to the formidable Lady Nadira Naipaul. "There are two possible reactions," he said. "She'll either say, 'Dafa ho jao. Who's Karnad? F*** him.' The other is, 'Where's Farrukh? Why isn't he defending us?'" No wonder Dhondy's upset that the reports are all "a case for the prosecution and nothing for the defence."
Reacting to Karnad's accusation that Naipaul has repeatedly said the demolition of Babri Masjid is justifiable, Dhondy said that when Naipaul was invited to meet the cultural wing of the BJP in 2004, the novelist had asked Dhondy to accompany him.
"He said, 'Will you come with be because I will definitely be misquoted and I want you to be there as the authentic listener'," said Dhondy. According to Dhondy, all the news reports from the time — all of which include quotes from Naipaul — are "Chinese whispers".
Dhondy, who described himself as "an apostle of truth", insisted Naipaul is not anti-Islamic and has been misrepresented.
"What he does say is that because of the nationalist phase of our history, we needed to unite against the British colonials," he explained. "So all the history that is written didn't allude to the previous conquest [by Muslim invaders]."
Dhondy said that Naipaul offered a "corrective version" that attempts to "restore balance" by countering "the Nehru-Gandhi-Romila Thapar version of history."
He conceded that Naipaul is conservative but did not agree that Karnad's critique of Naipaul's opinion could be equally "corrective".
"He was talking a lot of pap," said Dhondy of Karnad.