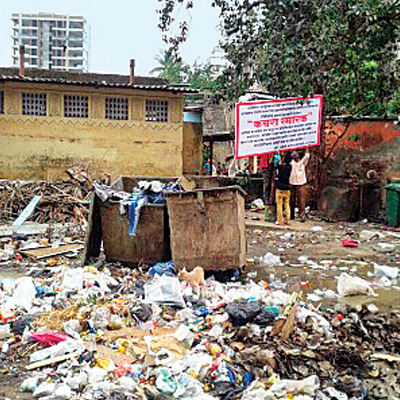 Infuriated at the alleged lethargy of the civic body resulting in refuse heaps piling up in her constituency, a Vile Parle corporator has staged satirical protest against the Brihanmumbai Municipal Corporation (BMC).
The corporator from ward number 80, Jyoti Alavani, has erected banners across the refuse heaps, declaring the piles 'garbage memorials', after her efforts to set things right failed.
Alavani, who has supported the ruling Shiv Sena-BJP combine in the BMC, said that besides municipal waste, non-removal of green refuse too has become a headache for local residents since at least a month.
"There are no vehicles available to remove garbage for quite some time now. The contractor who is supposed to transport waste generated after tree cutting, is doing a shoddy job. Silt has not been transported, despite the city receiving showers. In such a situation, people feel it is the corporator who is not doing enough, while the reality differs. Hence, we have erected banners to mark our protest. People will thus know who is at fault," Alavani said.
She informed that NP Thakkar road, Shraddhanand road in Jambhulkaka Wadi and Dixit road in Vile Parle east are the ones suffering the problem.
"We have warned the municipal administration that they must look into our problems at war front. Or else, it will have to face the wrath of the local tax-payers," said the corporator.
When queried, additional municipal commissioner SVR Srinivas, who heads the garden department, said, "I will look into her complaint."
Despite repeated attempts, additional municipal commissioner Mohan Adtani, who heads the solid waste management department, remained unavailable for his version.