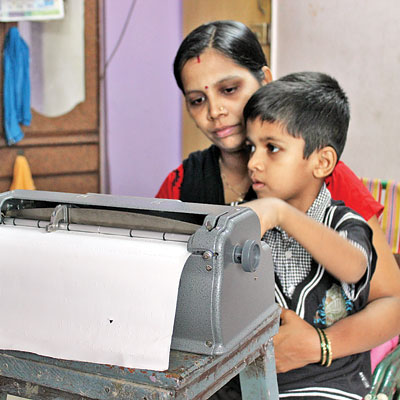 After losing his vision at the age of four due to an infection in his brain, Sujal Parab (8), did not lose hope and continued his education and stood fourth in class 1. Sujal, a student of Utkarsh Mandir at Malad (E), was helped by his mother, Shrawani, in classes 1 and 2. She used to attend classes with Sujal. Now that he has entered class 3, it will not be easy to teach him, so the Parabs have decided that Sujal should learn Braille from National Association for the Blind (NAB).
Early days
For the Parabs, the day Sujal was born was the happiest day in their lives. But on the 26th day of his birth, the kid was diagnosed with excessive water in his brain. Doctors quickly fitted a pipe from his head to his stomach to drain out the excess water through his urine. He used to attended junior and senior KG at Utkarsh Mandir high school with the pipe fitted in his system.
When Suraj was four, he contracted cough and cold and as a result, the tube attached to his body was affected, causing further infection in his brain. Once the tube was removed, the water in his brain dried up completely and he lost his vision.
Dr Paras Kothari, pediatric surgeon, LTMG Hospital, Sion, who had operated on Sujal, said: "He was treated for excessive water in his brain. But due to the infection, the water dried up and he lost his vision. He is a bright child."
Mum's the word
Shrawani said: "When Sujal lost his vision, he was helped by his school. The Shikshan Prasarak Mandal Trust that runs the school allowed me to attend classes with him to help him write his notes. And they conducted his exam without my help, which he cleared with flying colours. He is ranked fourth in class I."
How NAB helped?
After Sujal entered class 3, the Parabs decided it was time for him to learn Braille. They approached NAB. "NAB sends a special teacher to his school to teach him Braille. They also helped Sujal with Braille typewriter," said Shrawani.
What the school says
Jaswandi Nanche, principal, Utkarsh Mandir School, said: "The trust has been very supportive in Sujal's case. Our teachers now take care of Sujal. As he enters higher classes, studying would become difficult for him, so it has been suggested that he attend Braille training. A special teacher comes to school once a week to train him."