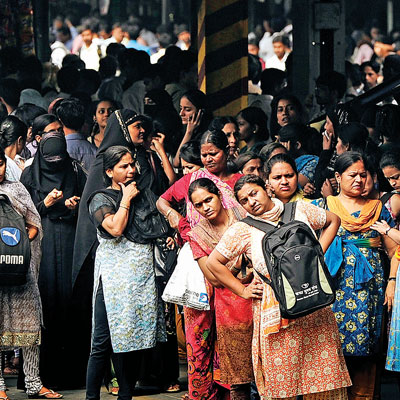 Projects worth Rs52,000 crore envisaged for Mumbai from 2011 to 2013 lie in the blind spot of the authorities despite it being a collaboration of the state government and the railways. The projects and the need for them have been made by the railways on the back of the findings of the Comprehensive Transportation Study (CTS) conducted by the state government.
For the people of Navi Mumbai and the fast expanding metropolitan region surrounding the satellite city, it was a major cause for concern.
The CTS has called for maximum attention on the Harbour Line since its calculations show that the Harbour Line – the fastest growing in the country in terms of passengers – will require a complete overhaul to keep up the pace. The cost would be in the range of Rs14,000 crore or about a quarter of the total outlay for the entire Mumbai metropolitan region.
The mushrooming of the Special Economic Zones in the Uran belt, Rewas Port, Navi Mumbai Airport and the expansion of the Jawaharlal Nehru Port will make eastern and south eastern part of the Mumbai metropolitan region a major job magnet, which in turn would spawn residential colonies over several thousand acres.
The numbers are ominous. The Harbour Line is growing at 9.22 per cent annually. This trend, the CTS suggests, would mean that the number of people on the Harbour Line would double by 2021. Currently, a little over 15 lakh people travel on the 793 trains that run on the line.
By 2031, this crowd will go up further and reach 45 lakh on the Harbour Line alone. Cold comfort is that currently the entire suburban system of Central Railway – which includes mainline and harbour – carry 41 lakh people in 1,618 trains. The population of the area itself is expected to reach around 6.6 million by 2031.
Navi Mumbai projections
Total kilometers envisaged: 180.7 km
Trains required: 60
Total cost- Rs13,962 crore
Cost of running 12-coach trains on Harbour Line: Rs714 crore
New lines envisaged:
Panvel-Jite-Thal: 60.9 km
Rewas Port: 10.6 km
Panvel-Karjat: 27.6 km
Panvel-Uran: 26.9 km
Kharkopar-Jite: 22.9 km
Ranjanpada-Seawood: 13.9 km
Thal-Alibaug: 5.4 km
Thane-Bhiwandi: 12,5 km