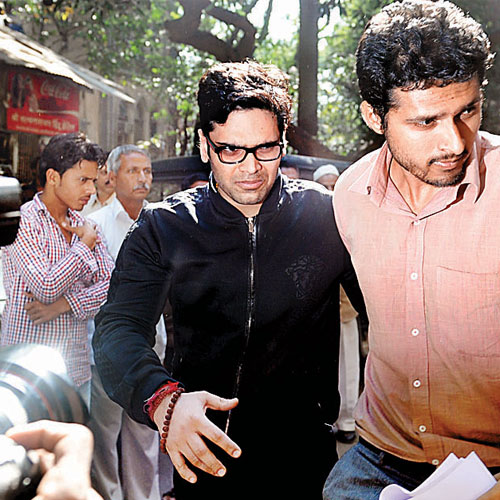 Two days after the Narcotics Control Bureau (NCB) discovered 4.5 grams of cocaine in the hotel room of Anant Vardhan Pathak, 31, a Yash Birla Group executive, Pathak and two others were arrested and remanded in NCB custody till January 16.
Pathak, group president, corporate communicatons and corporate affairs, his personal security officer, Dilip Palekar, 31, and his peon Dharmu Rathod, 29, have been arrested under sections 8(c) r/w 21 (b) (purchase, consumption and use of narcotics drugs), 28 and 29 (abetment and criminal conspiracy) of the Narcotic Drugs and Psychotropic Substances (NDPS) Act, 1985. Since the quantity seized was between 2gm and 100gm, the offence is bailable.
Income tax officials stumbled upon the drugs on Friday night when they raided Pathak's hotel room in the Taj Mahal Palace, Colaba. The department had been searching several premises of the Yash Birla Group for tax evasion. Francis Saldanha, public prosecutor of the case, said, "Pathak and the other two accused were staying in room number 667 from January 7. When the I-T department raided it, they stumbled upon a half-consumed cocaine packet in the bathroom."
After a thorough search, officials found seven more such packets inside a bag which belonged to Rathod, a resident of Ambedkar Nagar at Cuffe Parade. The trio was handed over to NCB officials for questioning; and after preliminary tests and investigations, they were arrested.
An NCB officer said, "They occupied the room for three days from January 7 and Pathak purchased eight small packets of the drug from a Colaba-based peddler on the first day. He consumed half a packet by mixing the drug with supari and left the remaining half in the bathroom." Pathak handed over the packets to Palekar, a Virar (E) resident, who gave it to Rathod.
"While Rathod and Palekar were in possession of the drug, Pathak was the sole user. Rathod and Palekar have admitted to have been in possession of the drug and, Pathak to both possession and consumption," he said.
Pathak, a resident of Ashoka Apartments at Napean Sea Road, is believed to have paid the peddler close to Rs40,000 for the 4.5 grams. According to NCB sources, he has told officials that he had been a drug addict for the last two years. NCB officials said that they have witnesses to prove that Pathak purchased the contraband.
"We have got custody of the trio till January 16 and we will conduct investigations to find out from where the drug was procured and how hotel officials had not noticed it," said NCB zonal director Rohit Kathiyar.
The Rathod family was livid with his arrest and alleged that Pathak had falsely implicated him. "My husband worked with Pathak for a month and left the job a few days ago. On Friday night, Pathak called him to his hotel room and told him that his salary would be increased. My husband went there innocently and was handed something which later turned out to be drugs. My husband is not a drug addict and draws a meagre salary of Rs12,000 a month. How can he have such expensive drugs," said Rathod's wife Shanti.
"He only followed his boss's instructions to keep his belonging and now he has been charged with drug possession. Furthermore, the room in which the cocaine was found was not booked in my client's name," said Naresh Rathod, Rathod's lawyer.
Inside the court, Shanti, a mother of four, constantly asked Pathak why he had implicated her husband in the case. While the latter chose to stay mum, some of Rathod's relatives almost collapsed within the court premises and tried to confront Pathak repeatedly.
Pathak's lawyer, Parvez Memon, alleged that I-T officials raided the room on January 7 and his client was illegally kept in the department's custody till January 10.
"Pathak had admitted that his servant was holding the contraband on his behalf. But, he retracted his statement later. We have informed the court that Pathak was in the I-T department's custody from January 7. I-T officials raided the room and kept him in their custody till January 10, the day when they informed the NCB that 4.5gm cocaine was discovered. This is illegal under the NDPS Act. The mandate of certain sections of the Act were not followed. This argument will be appreciated at the time of bail application," said Memon.
Memon said that 4.5gm was not the commercial quantity of drugs. "As per the NDPS Act, 2gm of cocaine is a small quantity while 100gm is a commercial quantity. Anything in between is a non-commercial quantity and when it is so, the person is entitled to bail," he said.