Students allege Nalasopara school provides books and mobile phones inside exam hall.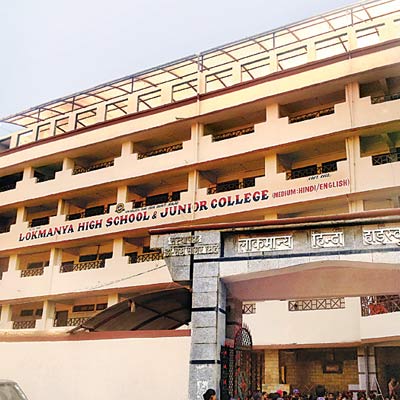 This school in Nalasopara would be the ideal centre for students who've not sudied the entire year. A few students, who are appearing for the Higher Secondary Certificate exam at Lokmanya Tilak High School and Junior College lcoated in Vijay Nagar have alleged that the exam hall supervisor encourages students to copy and even allows them to use books and cell phones to copy.
The principal of this school has, however, refuted this allegation.
One of the students, who writes his exam at this centre, said that the supervisor provides students with books and other copying material. Some of the students even take their cellphones inside the exam hall, although this is forbidden, after taking pictures of answers from textbooks. "When the chaos and din in the classroom rises, this supervisor hushes the class, saying, 'Copy karo lekin shor mat karo' (Copy but without making a noise)," said the student, asking not to be named.
Another student alleged that during the secretarial practice exam, this supervisor had provided formats of letters – a question which carries 15 marks.
The reason these two students are blowing the whistle on copycats is that they feel shortchanged and cheated. "Students who have made merry all year are getting a fat chance to pass by copying. Makes me wonder why I studied hard all year," said another student, explaining why she had alerted the authorities at the centre. "Besides, the chaos in the class during the copy session distrubs us."
However, informing the centre authorities, say students, has helped little. "When we brought it to their notice, we were told to shut up and to concentrate on our exams. They even threatened to get us arrested for copying."
Director of Lokmanya Tilak High School and Junior College, JP Singh, said he personally does the rounds in exam halls to ensure that students do not indulge in cheating. "We will look into the matter and take adequate action to curb such incidents if this is going on," said Singh.