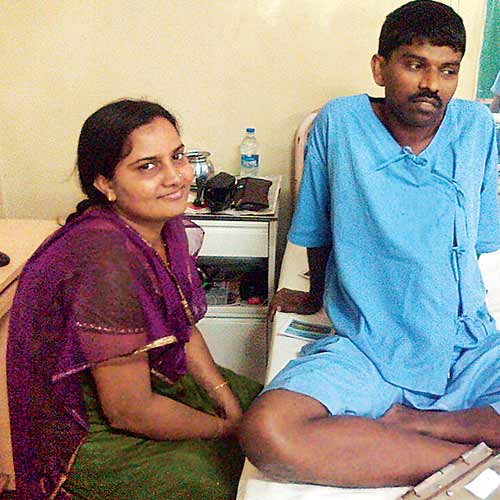 Walk into any Employees' State Insurance Corporation (ESIC) hospital, you won't be surprised to find yourself in a mess.
The ESIC network, which has four hospitals in Mumbai with nearly 700 beds, not only remained under utilised but has also brought a bad name due to its poor service.
Shantraj Belly (36), a resident of Dharavi-Sion, is cursing the day he decided to get admitted to Mahatma Gandhi Memorial Hospital, an ESIC hospital in Parel, for a cyst on his stomach skin a month ago. The ailment, which initially looked harmless, has now become a concern for Belly as he had to undergo three surgeries due to negligence by the medical staff at the hospital.
"I was operated for the cyst and got nine stitches. Within a week, the junior doctor decided to remove the stitch which had not healed. This caused a gap in the wound and led to infection," said Belly, who is insured under the ESIC scheme.
Medical negligence meant Belly had to undergo two more surgeries and take eight extra stitches.
"It has been a month now and I am still languishing in hospital with pain. I wish I had not come here," he told dna from the hospital.
The family also had to spend money on numerous medical tests suggested by doctors and on medicines which were unavailable at the hospital.
The government has expanded the number of people eligible for ESI, which provides medical care to industrial workers and their dependents by increasing the monthly salary cap of beneficiaries from Rs15,000 to Rs25,000, ignoring opposition from employers.
While the government has raised the salary cap, it has failed to improve the hospitals' infrastructure and medical care available in them. The beneficiaries of ESIC, who can avail of facilities like outpatient treatment, specialised consultations, hospitalisation and referral services in tertiary-care hospitals, say it is a farce.
Pooja Jaiswal (19), who is taking treatment at one of the ESIC hospitals, said, "Since we are insured under ESIC scheme, we have to rely on the medical treatment here. It has been a month that I was admitted for weight loss and fever, but the doctors have yet to find out the reason."
Her medical papers show that she suffers from stomatitis – inflammation inside the mouth. "The staffer aren't trained. My hands were swollen due to the IV fluid given to me. Many times we have to get our own medicines as they are not available in the hospital," she said.
Beneficiaries who are referred to tertiary-care hospitals or forced to go to private hospitals have other woes. Ramesh Kumar, 36, has been making rounds of Worli's ESIC hospital for the last two years as his medical bill wasn't reimbursed.
"I had brought my wife Sumati to the Worli ESIC hospital for delivery on October 20, 2011. The hospital didn't provide maternity care and instead referred her to KEM hospital. I spent Rs15,000 and submitted the bill for reimbursement," he told dna. He finally got his reimbursement on January 3, 2013. "In the last two years, they made me run from pillar to post for Rs15,000. It is a nuisance to be covered under ESIC," he said.
The ESIC beneficiaries are entitled to get medicines, ambulance services and immunisation schemes among other family welfare services. In Mumbai, the ESIC caters to 60 lakh people.
Dr Sunil Zode, senior state medical commissioner, ESIC, said, "Our reviews show that patients are not happy with the services at ESIC hospitals, but they are all state-run except for the one in Andheri."
Unhealthy insurance
ESIC hospitals are short-staffed due to no fresh recruitment
Apart from doctors and paramedical staff, the hospitals also face acute shortage of medicines
No emergency medical services
No ICU, PICU, NICU in most of the hospitals
Though hospitals have tie-ups with reputed hospitals, patients cannot avail benefits as signatory authorities are present only for a short time
Future plans and promises
Upgradation of Kandivli hospital. According to ESIC, it will be inaugurated soon and have 330 beds with modern operation theatres and equipment.
Andheri hospital: Expansion plans are going on. Work is on to make it a 500-bedded hospital. It is a centre for occupational diseases
MGM hospital-Parel: Expansion plans are on. At present, it has 150 beds and plans are on increase it to 500
'Shortage of doctors hits service, govt will fill vacancies'
The Employees' State Insurance Corporation (ESIC) network hospitals in the city are in a mess. In an interview with dna's Somita Pal, ESIC regional director BB Puri talks about the future course of action. Excerpts:
Patients coming to ESIC hospitals complain that they are asked to buy medicines from outside as regular antibiotics and painkillers are in short supply. What's your take?
I deny that there is a shortage of medicines. There must be some delay in procuring the medicines, but the state is in a better position to clarify that.
ESIC beneficiaries are always referred to private and tertiary-care hospitals. Why?
We have tied up with Fortis Hospital, Bombay Hospital, SevenHills Hospital and many other private ones, where ESIC beneficiaries can avail of the cashless facility. We are a secondary-care hospital and, in case our patient requires tertiary care, s/he is referred to these hospitals.
It is alleged that ESIC beneficiaries have to run from pillar to post to reimburse their medical bills. Is that true?
Such problems are case-specific. There must be some problem in the medical bills provided to them or else we don't take time in reimburse them.
Shortage of doctors and paramedical staff has been a concern in ESIC hospitals. How does ESIC plan to solve the problem?
Shortage of medical staff is definitely an issue. The state is working on ways to fill the vacant posts.