Uncovering the many hues of this SoBo husband-wife duo, who are the brains behind Zambhala and the upcoming India Bike Week (IBW).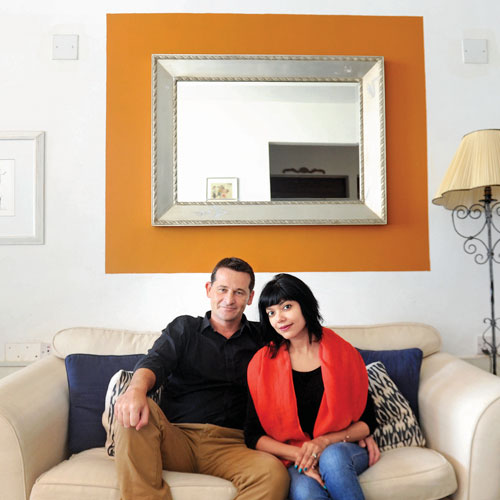 Sagarika Mukherjee and Martin Da Costa's Kemps Corner home reflects their personality; done up in shades of white, the home is a cosy nook for the family of four. It is in this new home that Sagarika and Martin are rediscovering their love for each other—and their careers.

Settling down
"It is less dusty out here as compared to Bandra," Sagarika nonchalantly announces, "Before I left for London, we lived in Bandra, but it has become very noisy now."
Memories of Sagarika's earlier home take her back to her days as a new mom, the first time she had taken her kid out in a stroller. "I was confronted by cars, bikers, noise and chaos till I got to Joggers' Park, where I could finally breathe!" she says. But, nowadays, cut away from the noise, Sagarika enjoys taking a stroll down the bylanes of Fort, Colaba and Kemps Corner, exploring SoBo's rich history, culture and Iranian restaurants. Martin too likes their current home as the kids' school is a stone's throw, and a weekend getaway to Alibaug is just a ferry ride away.
New age spirituality
After living abroad for a couple of years, when the Da Costas returned to Mumbai, they were aghast by the news of crimes and violence against women. Dismayed, Sagarika wanted to create a huge bonfire and cleanse the city. This thought eventually gave birth to Zambhala, a yoga and life spirit festival. "It was time for change and Zambhala was our way of cleansing the society," she explains.
Sagarika's dream found support in the thousands who attended Zambhala. "In its first year it was attended by around 2600 people. I think it was a lovely way to spend the weekend with the right kind of people," she says. "We brought in relevant speakers, gurus and teachers under the same roof and let the festival take a life of its own," adds Martin, who coined the term 'life spirit'. Quiz him about what 'life spirit' means and he explains, "For me spirituality is a heavy word. So, I decided to call it a 'yoga and life spirit festival'."
Mean machines
While the couple's time is now divided between family and work, there was a time, years ago, when Martin used to ride with Sagarika on his Royal Enfield to Kashid beach, where they camped over the weekends. It was this love for bikes and travel that gave birth to the India Bike Week (IBW) in 2013. "Before the first edition of IBW, we had no idea how many people would turn up," says Martin. He adds happily, "The turnout was 6500 without us even getting into market research. In its second year, IBW hopes to be a week of unlimited excitement, anxiety and thrills, where bikers from across the country can flaunt their mean machines.
Way forward
Coming back home and starting afresh has not been easy for the family. Sagarika, however, is glad that India extended a warm red-carpet welcome. While she continues her music gigs abroad with renewed vigour, she intends to spread her wings and put in more energy into her career here. Unleashing her love for Italian, the singer has been using her free time to learn the language.
Martin on the other hand has plenty up his sleeves. He admits to setting his sights on a Mumbai chapter of Zambhala and has been toying with the idea of hosting the yoga and life spirit festival at Turf Club, Mahalaxmi Race Course. "Right now, however, we would like to take stock of the huge success of the first edition of Zambhala," says Martin who will soon be flying to Goa for the second edition of the IBW.