Celebrity chef, Kunal Kapur, teaches dna reader, Tanushree Rao, to appreciate chocolates the way she would appreciate fine wine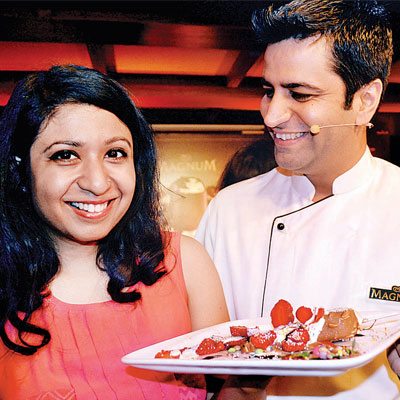 Chocolate, the most tempting of luxuries, enjoyed its true importance at the Magnum Master Class conducted by celebrity chef Kunal Kapur at Bungalow 9, Bandra. Beautifully atmospheric and packed with local colours and details, the master class ignited the excitement and euphoria that only a chocolate appreciation class can inspire. It was attended by an exclusive group of chocolate connoisseurs, who knew their pralines from the truffles.
dna chose Khar resident Tanushree Rao to attend the workshop. Her love affair with chocolates began when she was a kid and today she can easily tell premium quality chocolate apart from the rest. As Kapur introduced the guests to the world of chocolates, he enlightened them on the types of chocolate, their textures and taste. Urging the group to taste the chocolate samples lying on their tables, he said, "Tell me what you think of them?" As enthusiastic participants reached out for the chocolates and quickly popped them into their mouth, he exclaimed, "No! Not so fast. Taste the flavours and understand their texture." Rao gleefully announced that her taste buds were apparently asleep. "It is good but I need to try it again," Rao said, as she bit into another chocolate.
As Kapur let the participants relish the chocolates, he explained the difference between bitter and sweet chocolate, the percentage of cocoa that goes into a chocolate to make it a Belgium variety, and why some chocolates stick to our teeth and some do not. "The more cocoa butter used in a chocolate, the lesser residue it leaves behind. Chocolates with lesser percentage of cocoa butter tend to stick to our teeth," he quipped, minutes before trays heaped with Magnum were brought into the room. The sudden appearance of so many chocolate ice creams right in the middle of the workshop caused a minor stir with the guests eager to lay their hands on the premium variety of ice cream, which has just been launched in Mumbai.
The highlight of the evening was Kapur asking the participants to form groups to design their own Magnum. A digital media professional, who also writes about fashion, Rao put her culinary skills to test as she quickly donned the chef's hat. "I'll create a timeline," she quipped. But as she went scouting for mint sauce, the key ingredient for her creation, she was left disappointed. Without the mint sauce, she quickly changed her plans. Armed with bowls of strawberries, chocolate sauce, and other toppings, Rao returned to her table. As she created her own Magnum, she named her creation 'Death by chocolate'. Rao said, "It is called 'Death by chocolate' as I have a major weakness for chocolate." In a vibrant and joyous mood, she crushed a bar of Magnum and topped it with chocolate sauce and strawberries.
As the others busied themselves creating their Magnums, Kapur surveyed their progress. While one group created an avalanche of Magnums, another group sliced the ice cream to create cute Magnum pairs. As the literal feasting came to a close, Kapur announced the winners before the groups dispersed for lunch. "I enjoyed myself. The class was very enlightening," said Rao, as she went to join the others for lunch.