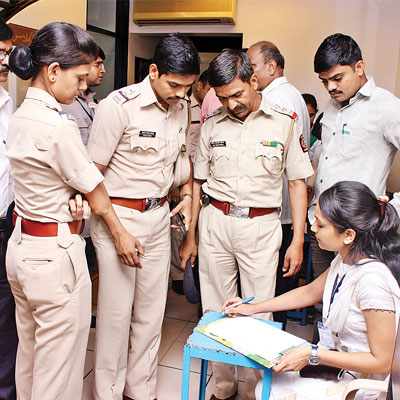 Recently, the ENT Academy in collaboration with Moxshlife Foundation conducted a free ENT check-up camp for five days for police officials and their family from 6 police stations of zone 1. It was found that over 65 per cent of police officials suffer from Gastroesophageal reflux disease (GERD) and 10% have hearing problems.
Dr. Harish Chadva from the ENT Academy, who checked a few police officials, informs, "Police officials have a very different lifestyle and as they don't have any fixed time for lunch, owing to their work, it leads to GERD. During training, they are involved in a lot of physical activity, but once they are at their work station, they don't follow any routine because their work is such. It would be advisable to have their meals at regular intervals and treat the problems well in time. Regarding the hearing problems, the doctor says, "Some cops have been suffering from this problem because they have a history and had a cold in their childhood."
Though the problem is curable, the doctor advises them to take good care of their health and exercise and regularly to keep healthy. He also explains that initially the problem may not be much, but as time passes, it may aggravate and lead to complications.
We also spoke to Dr Alok Modi from Kevalya Hospital to know more about the disease. He says, "When one suffers from Reflux, acid forms in the food pipe and since the eating schedule is irregular, the body also releases the acids accordingly, which leads to GERD." Talking about another common reason for the disease he says, "Chewing tobacco and smoking is very common among cops and these could cause the problem. A lot of fried food, mental stress and junk are also contributors. Though the disease is not deadly, if it is not treated on time, it may lead to ulcers and, ultimately, cancer too."
To combat these diseases, doctors advise that patients ought to increase fiber intake, raw vegetables and avoid eating fatty food as well as tea and coffee, and most importantly, fixing meal times.
To combat these diseases, doctors have certain do's and dont's:
Do:
Increase fiber intake and raw vegetablesHave fixed meal timesRegular sleep cycle
Avoid:
Fatty foodTea and coffee