The areas around Reay Road railway station are in danger of losing their heritage beauty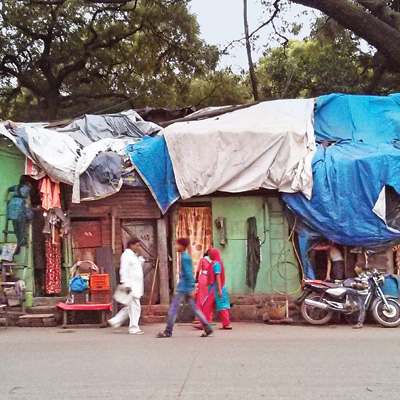 The Reay Road railway station, being a grade I heritage structure, instantly creates the impression of rich history and architecture. But when you visit the station today, you'd be met with an ugly scene. The station is clearly not well maintained, with beggars and children from the slums harassing passengers on the staircase.
The area outside the station is a mess as well with the Sant Savta Bridge road, which begins outside the railway station completely encroached by slums. Jinal Mehta, an office-goer who accesses the area, shares, "The entire stretch is dotted with hundreds of slums and they have occupied the sides of the road, narrowing its width. Also, it's not just their slums that have occupied space but their belongings are scattered on the roads too."
Outside their slums, the dwellers have dumped cots, stoves, huge barrels and buckets filled with water. The area is extremely dirty as the narrow-sized drainage is open and even overflows, giving rise to a stench. Children play in such places and condition of their health is an altogether different story.
The area's close proximity to the Eastern Freeway makes the Bridge road critical for heavy vehicles. *Rajendra Sawant, an office-holder in the nearby area, says, "This issue is not just about the slums, filth and health; it is also about the safety quotient. A lot of robberies happen when heavily-loaded vehicles pass on this road. Sometime ago, a truck carrying a consignment of my goods was robbed by a few drug addicts. They simply snatch whatever stuff they can lay their hands on."
The staircase leading from the bridge to the Sant Savta Bridge road has been completely taken over by drug addicts. These people are always present in the area, dipping the overall level of safety.
Sanjog Kabare, Assistant Municipal Commissioner, E/Ward, clarifies, "There are around 600 hutments in the area. Under the Mahatma Gandhi Yojna, these slum dwellers have to be rehabilitated. The paper work has already begun and soon, a list of the people to be moved under this scheme will be ready. If all goes well, by the end of this year we will be able to rehabilitate them."
Name changed on request