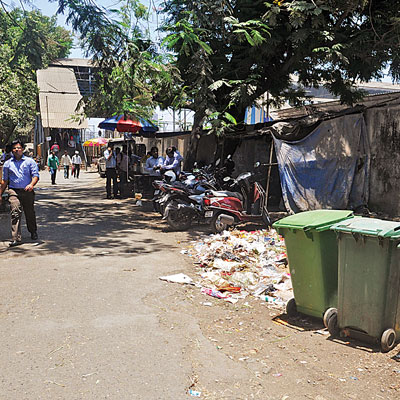 To whom does the approach road to Elphinstone Road station belong? The road, which is used by thousands of commuters who step out of the station and walk to their offices nearby, is totally neglected. It has potholes and piles of grit dumped by contractors and garbage lies strewn around.
Raghu Samant, who walks down the stretch daily, says, "I shudder to think what will happen during the rains. It could become hell."
The strange part is that while some people living in the area say the road belongs to the Western Railway (WR), the railways says it is under the jurisdiction of the Brihanmumbai Municipal Corporation (BMC). But Amol Kusale, assistant engineer, G-South Ward, told dna that the road is with the railways.
Commuters have complained to the WR, but in vain. "The indifference of the WR is to be seen to be believed. They have an I-don't-care-a-damn attitude," says Laxmi Subramani.
Now, they plan to talk to the Arvind Sawant, the newly-elected member of Parliament from the area to get something done. The BJP is likely to take up the issue with Sadananda Gowda, the new railway minister.
The narrow road is badly lit and hawkers are another nuisance. This is in contrast with the approach road to Parel station on the Central Railway (CR). This is well paved and regularly swept clean.
"If the CR administration is sensitive to commuters' grievances why not the WR?" asks Tejas Kumar, another regular traveller.
"The uneven road is difficult to negotiate and there are regular cases of people tripping on the patchy portions, It's worse for the elders," says Rashmi Poojary, a biotech professional who walks down the stretch to office.
Sharat Chandrayan, chief public relations officer of WR, says, "We have been taking assistance from BMC officials to clean up the place. The area is not under our control so we cannot do much about it."
Vinod Pujari, 32, a resident, said the road is part of the railway colony in the area. "How can WR say it does not belong to it?" he asked. Sher Khan, 60, who is a driver with the railways and lives in the railway quarters here, says the approach road is under the WR.