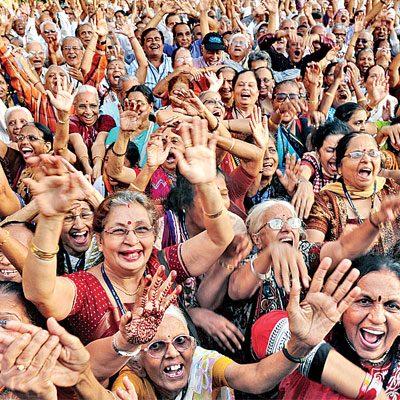 Dada Dadi Park in Borivli was a perfect place to drive away your Monday blues as the park roared with laughter. Up to 1,950 senior citizens from 60 to 90 years had assembled to make a world record in laughing. The enthusiastic participants have set a never before seen, 'Senior Citizen's Collective Laughter Yoga World Record.'
The evening saw the garden resound with heartfelt laughter suddenly emerging to attract attention from self-absorbed joggers. Shantibhai Sanghvi (90), was very excited to be a part of this world record. "We are raring to see our record being published in the Limca Book of World Records. Laughter gives me a lot of energy, makes me fresh. A reason why I feel so young even at 90. For me it is an activity of bonding.
Moreover, respiratory stamina builds up, lungs are being exercised and with deep breathing, blood pressure gradually comes down," said Sanghvi.
The activity was supported by non-profits working for the elderly including Pushpa Maa Foundation, HelpAge India, Dignity Foundation and Silver Innings Foundation. "Varieties of laughters woven into physiotherapy exercises that last for at least 45 minutes nonstop," said Sailesh Mishra of Silver Innings Foundation. "The record book for this year, with the mention of this achievement will be published in mid-June."
The record of 'Maximum numbers of Senior Citizens (60 years and above) doing Laughter Yoga, laughing collectively,' functions on internationally recognised tenets of laughter yoga.
Close to 90 laughter yoga clubs function in south Mumbai as well as eastern and western suburbs including Andheri, Malad, Goregaon, Mira Road and Mulund under the aegis of Laughter Club International founded by a senior Mumbai-based physician Dr Madan Kataria. The first such club was started by five friends and Dr Kataria in Lokhandwala Park in 1995. For those, who find laughing without a reason, a foolhardy exercise, Dr Kataria's argument will suffice. He explains how laughter yoga is therapeutic to the body and mind. "Our body cannot differentiate between laughter with or without reason. Further motion in the body creates emotion," he says.
"We start with clapping which stimulates acupressure points in the body. Then we weave in movement exercises of each and every body part from head to toe in between bouts of deep breathing and exhalation through laughing," says Dr Kataria.
While the benefits of laughter are innumerable, doctors advise a word of caution for patients with weak lungs.
"Patients with emphysema or weak lungs should not stress themselves too much while laughing. Increase of pressure in weak lungs can cause air to leak due to which a patient can have chest pain. But other than that laughter is the best way to lead a healthy life," said Dr Ashok Mahashur, senior chest physician, Hinduja Healthcare Surgical in Khar.