Eating at Silverspoon Gourmet is like diving into a sea of European flavours; a culinary experience for the forward-thinkingfood enthusiast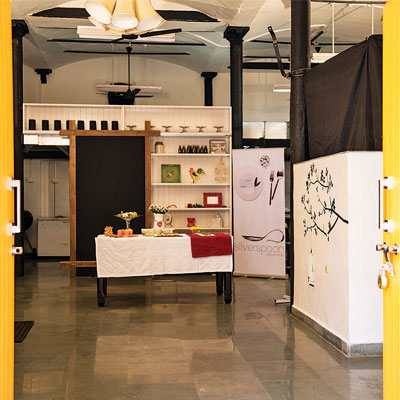 At first glance, Silverspoon Gourmet, a new-ageculinary studio, resembles a warehouse sans the multiple table-chair seatinglike in restaurants. Call it a state-of-art cooking loft where workshops,parties and cheese-tasting are held so as to introduce foodies to the joy ofeating, or a culinary studio that allows patrons to experience hands-oncooking, Silverspoon definitely is a breath of fresh air in Mumbai's culinary sphere.
At Silverspoon Gourmet, the philosophy is simple:Fresh ingredients treated simply to make cooking fun. Their recipes are knownto draw out the flavour in the food. As we walk in, a bare room with a diningtable (set for two) and a live kitchen welcome us to Silverspoon Gourmet. Abunch of young chefs scurry around as they set up the ingredients in the livekitchen. Chef Joshua D'Souza urges Kulkarni to step into the kitchen.
Slices ofbasa, tender chicken and salmon wait to be marinated, cooked, garnished andserved. Donning an apron, Kulkarni steps into the kitchen and lends a hand tothe chef as he marinates the basa with sauces.
Our meal begins with cranberryjuice, which settles us in beautifully—it is hard to avoid feeling pampered aswe receive the undivided attention of the staff. The fuss-free appetisers arebrought out, one after the other, there's 'corn on the cob' served with a twistfollowed by grilled veggies on a skewer and salad. But, it is the grilled menuconsisting of basa, salmon and chicken grilled to perfection, which deservesserious attention.
There is no dessert on the menu that doesn't worryus, as we are already stuffed to the brim. "Soon we will add a dessertcounter," says D'Souza, "There will be an entry fee and guests will be servedunlimited desserts."
anita.aikara@dnaindia.net The writer along with dna reader, Onkar Kulkarni,visited Silverspoon Gourmet to find out what's new at this culinary studio.