However, some are miffed about the Bollywoodisation of the festival.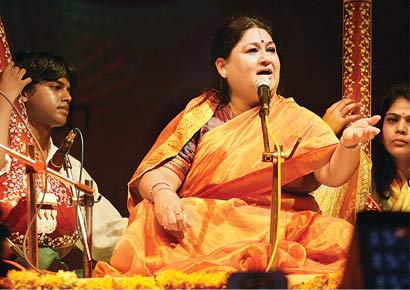 It began as a rare Diwali pahaat mehfil (an early morning classical Diwali music concert) 15 years ago, and now it's a rage across the state. Concerts that start at 6am and feature genres as varied as classical, semi-classical and Bollywood are being held between Friday and Tuesday to mark Diwali. The city will itself have 26 of them, with more in other cities like Pune and Nashik.
However, minor developments have irked some old-time regulars at these musical events.
"People have started singing filmi songs and lavnis," laments tabla maestro Aneesh Pradhan. "You don't need to wake up early for a special Diwali concert to hear that kind of music. I have nothing against popular music, but we hear them through the year anyway. How is Diwali special then?" Pradhan, along with his wife and celebrated vocalist Shubha Mudgal, set the tone for the season with a pre-Diwali concert on Friday.
Vocalist Devki Pandit, who is performing at an early morning concert at Juhu's Ajivasan Music academy, says that she sings nothing other than bhajans. "I am gentle but firm about what I will and will not perform," she said. She is partial to her guru Pandit Jeetendra Abhisheki's compositions in raga lalit and bilaskhani todi, she added. The latter is also a favourite with Ustad Rashid Khan who is also performing at a morning concert at the Yeshwantrao Chavan auditorium.
The concerts attracts not just Maharashtrians but others too. As 14-year-old Bharati Sunderam figured out what to wear for the occasion, her mother Dhanya said, "We would have such early morning temple recitals back in the south when I was growing up. I feel this is a great way to keep the traditional alive during festival time."
The compositions that Mudgal sang have been compiled by her since her ordainment into the Vaishnav tradition 15 years ago. "I was baffled when first approached to offer raga sewa at the Radha Raman temple and the Chaitanya Prem Sansthan at Vrindavan by a friend, but later I was drawn to the idea of serving the Lord with music," she says. "It would be almost impossible to not be moved by the beauty of Radha-Krishna songs at a Diwali gambling session, and hearing how Krishna was exhorted to bathe in milk in preparation of meeting his beloved on Chhoti Diwali."
Mudgal has no problem with the 'Bollywoodisation' of these concerts though. "I don't want to dictate and tell people what to perform or listen to. If the latest Bollywood chartbuster works for them, then I can live with that. What is important is that classical, semi-classical and devotional music doesn't get affected in the process," Mudgal told DNA.