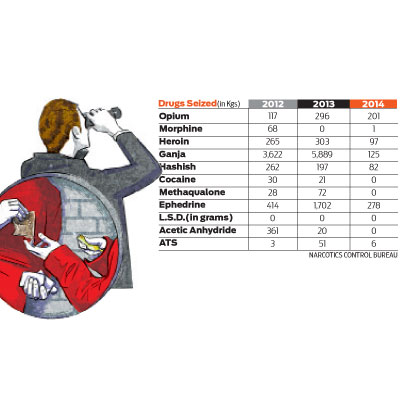 The drug trade in the country is defined by powerful international syndication, clandestine technology and elite players. If the official data is anything to go by, the Narcotics Control Bureau (NCB) has had an abysmal start to this year in terms of seizures.
In the latest data released by the NCB for the first three months of 2014, the amount of drug seized by the agency across the country has remained low. While the agency has seized 201kg of opium, which is on the higher side, there has not been any significant seizures of other drugs. About 97kg of heroin, 125 kg of ganja and 82kg of hashish have also been seized by the agency, which is not much as compared to previous years. Surprisingly, as per the data, there have not been any seizures of cocaine, a popular stimulant drug and methaqualone, a sedative hypnotic drug. Last year, 21kg of cocaine and 72kg of methaqualone were seized.
Most of the drugs have been seized from Punjab, Jammu and Kashmir and Himachal Pradesh.
The officials attribute the less amount of seizures to the fear among international peddler syndicates, tight security and vigilance at the borders.
An officer from the NCB said, "This year, we've had less seizures. It is primarily because of the clandestine movement and the new transit methods adopted by the international syndicates in drug transit. We have strengthened our security at the borders because of which there is a sense of fear. However, the coordination between various agencies, including excise, state narcotics cell, etc, need better strengthening."
That apart, after a major clash between Nigerian drug peddlers in Goa and the police, many of them were pushed out of the state. This, according to officials, has created fear among the Nigerian Mozambique and Ghanaian peddlers that operate in large numbers in the country.
Recently, a huge haul of heroin worth Rs100 crore was made by the Jammu and Kashmir police from the Indo-Pak border. "As a result of this, travelling and trade in the border has been stopped for a while. Therefore, the drug trade in the Golden Triangle (Pakistan-Afghanistan-Iran) has come to an all time low," said an officer.
However, the bigger question is the inefficiency of the agencies to nab the bigger peddlers and sophisticated networks that supply high-end party drugs in the country. "These days, peddlers use social networking sites for sale of drugs. We are being watchful. However, the big fish in this field are very clandestine and because of modern technology and also because of such powerful people being hand-in-glove with the police, it has become difficult to nab the big players in the drug trade," added an officer.