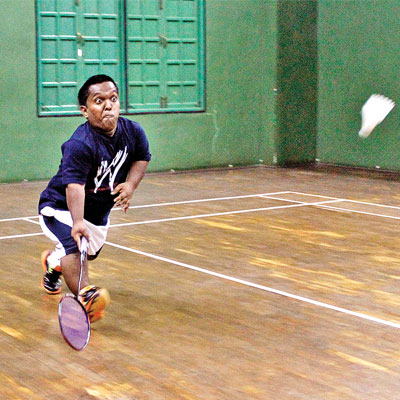 Mark Dharmai is not your typical, tall and lanky badminton player.
In fact, he is just 4-ft tall. But he is living a dream that most champions would die for.
Living in a 100sqft shanty in Chimbai village, Bandra, the 30-year-old had never imagined that he would be where he is today. Though he started playing competetive badminton less than three years ago, he has left seasoned peers far behind and will represent India in the prestigious All England Para Badminton Championship next week.
For this dwarf who belongs to a poor fisherman family, the journey from his humble origins to the courts was an excruciating struggle, and still is. In fact, his participation in the championship could not have been possible without financial help from his friends.
"When I was a child, I used to ask my mother why I was not growing while all my friends and classmates were getting taller. She would try to pacify me by saying that I too would grow, but slowly," he says on the sidelines of a practice session at Bandra Gymkhana on Saturday.
This is not the first international competition he has attended. Last year, with absolutely no professional training or coach, he had won a bronze medal at the World Championship in Germany, in which he partnered a Russian in doubles. The tournament brings together the world's best players.
"My school principal insisted that I take up sports. I chose badminton as it has competitions for disabled players. Soon I realised that I am capable of big things and started participating and winning at state and national levels. Then I got a chance to play in Germany," he recalls.
For Mark, his determination is his trump card. "My aim is to play for the country, and win, the way Saina Nehwal does," he says. Sports company WWE recently offered him help with kits and a coach.
However, a fund crunch stands between him and the tournament since he needs Rs1.20 lakh to cover his expenses. This is a common occurrence in India. In fact, he missed a major tournament in Indonesia last month due to insufficient funds.
But Mark's role model keeps him going. "I love to watch Saina play. I don't have a television at home, so I go to my friend's place so I can watch her games," he says, beaming.
(Mark Dharmai can be reached at 8898090907)