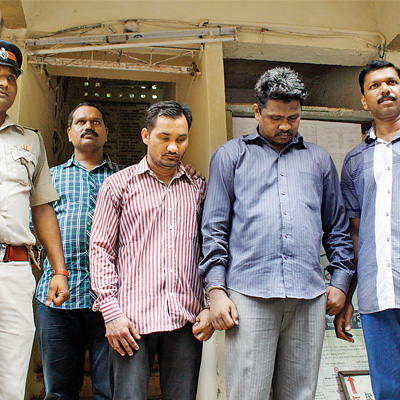 Two unemployed youths were arrested by the Shivaji Park police for allegedly duping four banks by securing loan worth lakhs of rupees by submitting forged documents. The duo was arrested on June 10 when they had come to Reliance Capital's office for verification of documents that they had submitted.
Accused Sanjay Bala Parab and Suresh Pandurang Shinde, both residents of Virar, were arrested after Virbhushan Jagtap, Manager at Reliance Capital's Matunga branch, alerted the police about the duo submitting forged documents to secure home loan of Rs 25 lakh. According to the Shivaji Nagar police, the two have confessed to the crime and have also revealed that they had earlier duped four banks after securing loans on forged documents.
Zone V deputy commissioner of police Dhananjay Kulkarni said: "Both the youths had devised this classic modus operandi where they would submit fake government papers like PAN cards and election cards, and passbooks of banks procured on fake names using forged documents. We have come to know that both Parab and Shinde are unemployed graduates. In order to make quick bucks, they started this con job. Both have taken loans from four different banks."
The police have launched a manhunt for those who made the forged documents for Parab and Shinde. They are also investigating to verify whether any bank official or any builder was hand-in-glove with the accused duo.
Kulkarni said: "We are investigating to check whether the accused got any assistance from bank officials as generally all the banks do a thorough background check before sanctioning any loan. The total amount that both Parab and Shinde took from various banks is around Rs70 lakh. We have recovered 20 debit and credit cards, one fake election card, pan card and passbooks from the arrested accused."