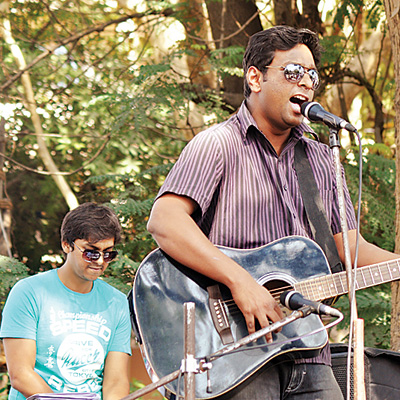 Two Thane musicians are generating a new interest in the Ganesh aarti through energizing tunes that have got particularly the young grooving.
Vishal Rane, a professional musician, and Sameer Bangare, creative director with a TV entertainment channel, have been playing their songs at the celebrations in different parts of Thane city since the festivities began last weekend. And the tunes are captivating worshipers without exception.
"We've been listening to the aarti songs since we were kids. But these tunes are different. They get us grooving and hold us through the more than hour-long prayer that is no longer boring," says Karthik Raghu, a young resident of Vrindavan society.
The tunes have a twist of rock and they call the compositions 'Naad Vinayak'. "We noticed that youngsters enjoy dancing to music spun by DJs during the immersion. This gave rise to the idea that we could try giving the songs a new twist to draw youngsters to the aarti," says Rane.
Their opening show on Friday was a big hit, proof that their hard work over the past more than three months has been worth it. Even a YouTube video of the show got 600 views in only two days.
"We are overwhelmed by the response and glad that the young are accepting our music. We are thinking of producing a CD by the end of the year," says Bangare.
The already popular theme song 'Sukhkarta dukhharta' has been pepped up as have been 'Mantrapushpanjali' and 'Ganpati stotra'. They have also taken up works by noted poet Arun Mhatre, who is also a narrator at the performances.
The two have performed together before. A recent performance was at the Upvan festival. On Monday the duo were at Kashish Park and mandals and housing societies are rushing with requests for them to lead their festivities.
"It's different in that the beat draws the young. It's an energizing change that is welcome and no one will be upset. I am sure the CD will be in demand too," says K Vishwanathan, from Gokul society.