731 roads dug up for development works, most for monorail and metro projects.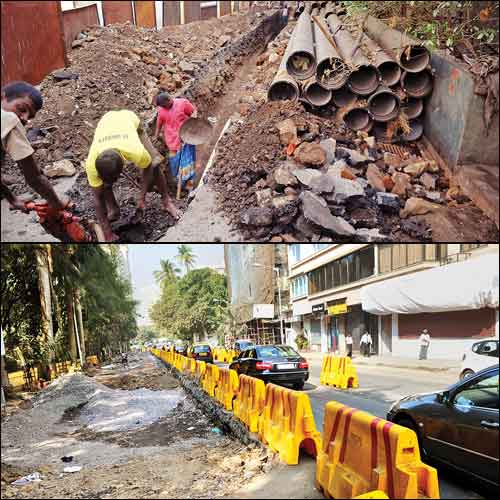 With several roads being dug up for developmental works, commuting on the city roads has become a nightmare.
According to traffic police department, at least 731 arterial roads dug up in the city for some work or the other adding to the chaos on roads.
Deputy commissioner of police (traffic) Pratap Dighavkar said most of these works are of monorail and metro projects and construction of flyovers. Repair work of several roads too are being carried out.
The works started post-monsoon and had to be completed before monsoon last year. "We are at a development stage and these kind of works are inevitable. There are flyovers being built, drainage holes are being cleaned and cables are being installed. Digging of roads is required for all these works," Dighavkar added.
All these works have added to the workload of traffic personnel, who are fuming as the contractors in-charge of road repair works do not meet deadlines. The contractors do not bother to put up signage boards for traffic diversion. "We have written to the authorities concerned to give us the list of diversions and also put of signage boards. We have also asked them to maintain the roads which are being used by motorists. We have not got any response from them," said a senior traffic officer.
The slow-moving traffic, especially during peak hours, has made life hell for motorists who have to wait endlessly for their vehicle to move. Many motorists have stopped taking their vehicles to work. Continuous honking and pollution have inconvenienced residents too. "It has become difficult to breathe with so much dust in the air. It has been more than a month that the digging work in going on," Nigel Joseph, a resident of Dharavi 90 Feet Road, said.
As per the norms, the contractors are supposed to put up a board at the site mentioning the day the work started and the estimated date when the project is likely to be completed.
President of Western India Automobile Association Nitin Dossa said: "It is mandatory that such boards be put up but only a handful of contractors seem to be following the rules.
Also, the work is never completed in the given time because the contractors hire few labourers to save money which eventually leads to delay in the completion of work. The contractors who delay work should be fined only then will there be some improvement."
The traffic police have started a drive against those flouting parking rules. "We are taking action against garage owners who park their vehicles on the road causing inconvenience to the motorists," Dighavkar said.
Some roads that are in a shambles
Both sides of the roads opposite Jay Gopal Industrial Estate on Senapati Bapat Marg in
Dadar (West)
Phalke Road in Matunga Road
Road outside Cinemax near Sion Circle
Portion of Sir PM Road in Churchgate
Bhulabhai Desai Road.