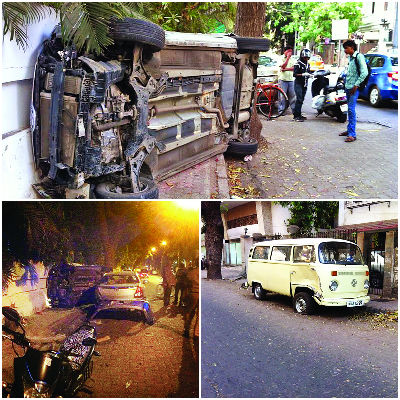 A 44-year-old man, Viren Ramesh Patel, was arrested by the Khar police for drunk driving and ramming his car into two parked vehicles in Khar (West).
The incident took place at 5am on Wednesday when the suspect was returning from a party at the house of Bollywood actor Pratik Babbar, son of actor Raj Babar who is a Congress candidate from Ghaziabad near New Delhi.
The arrested suspect, Viren Ramesh Patel, resides in Goswami Tower at 11th Road in Juhu. He was with a lady friend who is a foreign national. "Patel and the girl were at the actor's place in Bandra and after having few drinks they left around 4.30am from his place and were heading towards his house in Juhu at the time of incident," said a source.
Pratik Babbar rushed to the police station to defend his friend saying that it was just an accident and no one was injured. But the police asked him not to interfere in the matter after which the actor left from the police station. However, the Khar police denied that the actor visited the station.
According to the police, the incident occurred around 5am on Wednesday when Patel was along with his female friend was driving his Hyundai car i20 and was heading towards Khar-Danda.
Patel was driving his car at more than 100 kilometres per hour, lost control over the car and first went on to hit a Volkswagen, which was parked on 17th road near Maya building and later hit another car which was also parked nearby.
"Patel was driving drunk and he sustained minor injury due to the accident. His female friend also sustained minor injury. Patel was arrested on charges of rash and negligent driving and drunk driving" according to the police.
Patel was produced in the metropolitan court in Bandra and was granted judicial custody.