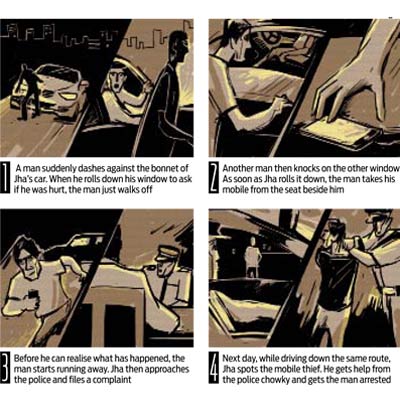 The driver of a high-end BMW car fell for the oldest trick in the book of thugs and lost his expensive Samsung Galaxy Note III smart phone recently. But the very next day, he spotted the culprit and got him arrested.
Jagannath Jha, 31, who was driving his owner's vehicle near Mahalaxmi bridge, was shocked when a man deliberately came in front of his car and pretended to be injured. The car was being driven at low speed.
While he was looking at the man to figure out what exactly happened, another person knocked on his window from the other side. As soon as Jha rolled down the glass, the thug decamped with his cell phone which was kept on the seat beside him.
The incident took place on Saturday night when Jha was on his way to pick up his employer from Jacob Circle.
In his complaint to Nagpada police, Jha said that a person, presumably about 25 years of age, suddenly came in front of the car and intentionally dashed against its bonnet. When he rolled down his window to enquire what had happened, the person ignored him and walked away. At that moment, the person knocked on the other window.
"As soon as I lowered the glass, he took my mobile and ran. I immediately went to Nagpada police station and lodged a complaint," said Jha.
Interestingly, the next day when Jha was driving on the same route, he spotted the man who had stolen his mobile in a shop at the same spot.
"I immediately went to the nearby beat chowki and brought a police constable in my car to the place. He nabbed the suspect and brought him to the police station," Jha to dna on Monday.
Senior inspector Nandkumar Mehta of Nagpada police station said, "We are interrogating the suspect and hope to trace the cellphone soon."