dna visits Wagle Sports in Marine Lines, India's oldest sports store.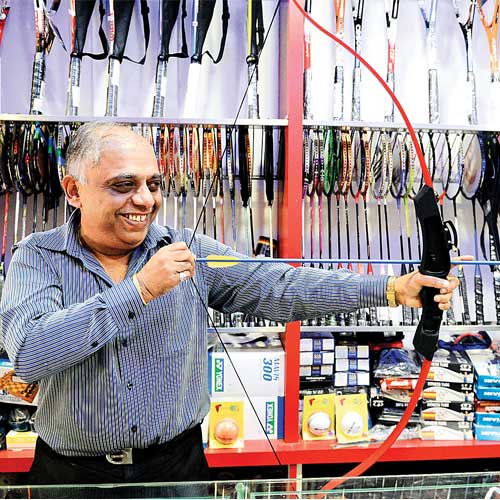 Once upon a time, a landmark in Marine Lines, Wagle Sports store is now almost lost amidst the bustling energy of Princess Street. Originally established in 1865, owner, Manohar Wagle has been running the store for over 30 years, "My great grandfather Shri Raghunath Wagle used to own a perfume store at Lokmanya Tilak Marg. His association with the British officers led him to set up the sports store," says Wagle.
Colonial Connection
At the time, British officers used to live in Crawford Market with their barracks located at Marine Lines. While travelling from the barracks to their residence, the ritual visit to Raghunath Wagle's perfume shop turned into a business deal between the perfume owner and his military clientele.
"Considering the fact that there were no sports shops in India, we had to order material from England and received the items at least six months later," explained Wagle, "Since we were the only sports store at the time, we used to get orders from as far as Aden in the west to Hong Kong in the east. It was only around the 1900s that the sports industry began blossoming in India." This is when competition slowly rose. Wagle mentions certain unethical principles that were adopted by other sport store owners, which his forefathers refused to embrace.
Own appeal
In those times, hockey was the preferred sport, over the years it shifted to cricket and football. "I believe television is what creates the strongest impact, whichever sport is telecast more often, it becomes the most popular," sighs Wagle.
But what is it that makes Wagle Sports store different from every other local sports shop? It is not everywhere that you can buy archery equipments, fibreglass catapults, pogo sticks, croquet sets, surf boards and pretty much anything related to sports. Celebrities and sports personalities often frequent Wagle Sports store, "Saif Ali Khan bought pellets for his air gun, Juhi Chawla got the case for her Miss India trophy made by us. In my grandfather's time, Vijay Hazare and Vijay Merchant used to buy their equipment from us," shares Wagle. He wistfully adds, "Now sportsmen are gifted everything. That is why we have not seen sportsmen like Sachin Tendulkar."

Matter of integrity
In 2006, Wagle Sports store organised a seminar, 'Doping in Sports', in which they highlighted the hazardous results of using steroids and the distinct difference between food supplements and steroids. Their addition of whey protein jars and vibro belts are clearly a recent inclusion to their sporting goods, "We are very old and traditional in a certain sense, we will not sell you something that is not good for you. For a long time, I resisted stocking them. I will not keep amino acids or keratin which is harmful to the kidney, however, because of overwhelming demand I have kept whey protein and vibro belts," sighs Wagle, who refrains from promoting them to customers who are keen on buying the products. It is rare to find an individual in the sporting goods business who has not succumbed to the pressures of endorsing artificial, possibly even unsafe merchandise, and continues to propagate a healthier, more natural way of fitness. "When steppers were very popular, I often told customers, you might as well take the stairs!" laughs Wagle.