Met dept cautions Mumbai, Thane, Raigad, Ratnagiri, Sindhudurg and Goa of continuous rains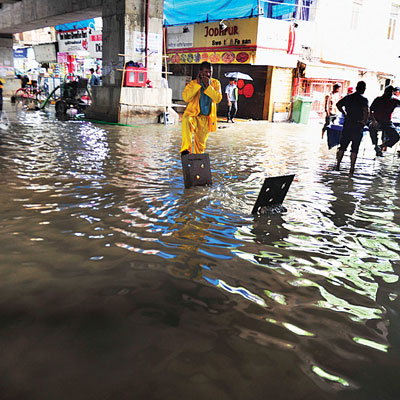 While Mumbaikars are relishing the much-awaited monsoon, the situation may become worse in the next few days. The Indian Meteorological Department (IMD) on Friday issued a warning that Mumbai can expect heavy to very heavy rainfall over the next two days. Apart from the city, districts of Thane, Raigad, Ratnagiri, Sindhudurg and Goa will hit by continuous downpours.
Though the heavy rains may subside in Mumbai from July 13, it will continue to pour in other parts of the state, said the Met department.
Fishermen on the Maharashtra-Goa coast have been warned by the Met not to venture out into the rough seas. "South-westerly winds at the speed of 45-50 kilometres per hour with gusts reaching upto 60 kmph," says the Met warning.
On Friday, Colaba recorded 23.3 mm of rainfall and Santacruz recorded more than double the rainfall in the island city at 60 mm. However, on Thursday, the situation was much worse with 73 mm of rainfall recorded in South Mumbai. The maximum and minimum temperatures stayed at 28 degree Celsius and 25 degree Celsius. "Southwest monsoon has advanced from Goa and Konkan to the interior parts of Maharashtra. It should rain consistently from now on," said a Met official.
Colaba is facing a shortage of 183.8 mm of rain while Santacruz is short of 220 mm for the monsoon season. "It looks like the deficits will be overcome if it rains regularly," said the official.
High rainfall have been recorded in the Konkan areas of Malvan and Ratnagiri.
"In the western region, Konkan and Goa areas have received high rainfall. The monsoon has also hit south and central Maharashtra, Saurashtra, Kutch, and isolated places over north-central Maharahstra, Marathwada and Gujarat region," stated the Met department.
Rainfall levels see a spurt
Friday (8.30 am – 5.30 pm) June 1 July 11 June 1 Sept 30 Departure
Colaba 23.3 mm 659.3 mm 2142.4mm -183.8 mm
Santacruz 60.0 mm 601.5 mm 2142.4mm -220.0 mm