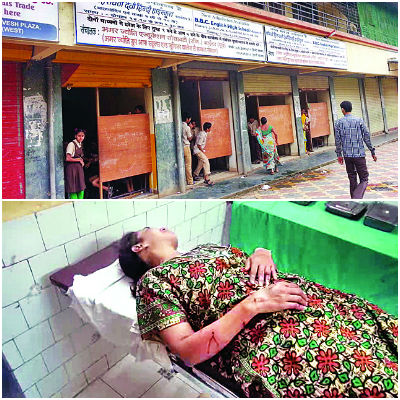 A 44-year-old teacher of a Nalasopara school suffered multiple abrasions and deep cuts on her body in the process of saving a student who was attacked by a dog. She was moved to JJ hospital for treatment.
The teacher, Krishna Baveria, teaches primary class students in BBC English High School at Chheda Ben Park, Nalasopara West. The building from which the school operates is in fact shops (with shutters) that have been converted to classrooms. Though these classrooms have wooden planks that act as walls, the planks are open below.
On Friday, a dog entered the classroom from outside and bit the skirt of a class II student, Priya Shah. When Baveria tried to rescue the kid, the dog turned on her. It was the locals who saved her.
"Dogs often loiter around in the vicinity of the school, but have never attacked anyone before. But today (Friday) when I was taking classes, an aggressive dog entered the classroom and tugged at the skirt of a student. When I tried to save her, it attacked me, leaving me unconscious. I was rushed to the hospital by the locals," said Krishna Baveria.
"The woman had multiple abrasions on both forearms; there were deep teeth cuts on both her legs, and scratches all over her body. We have given her tetanus injection and Rabbies Pure. She was also advised to move to JJ hospital for further treatment," said Dr Bhakti Chaudhary, medical officer, Dr DM Pethit Hospital.
Locals here said they had several times approached Vasai-Virar Municipal Corporation authorities and requested them to check stray dog menace in the area, but no action has been taken.
"The civic body has spent a lot of money to check stray dog menace, but it has not succeeded," said Pravin Gaikwad, a local resident.
"We will soon conduct a drive to check stray dog menace. We will speak to ward-level authorities to bring down stray dog population, said Govind Rathod, civic chief (temporary) Vasai-Virar Municipal Corporation.