K Ramkrishna is an inspiration for young India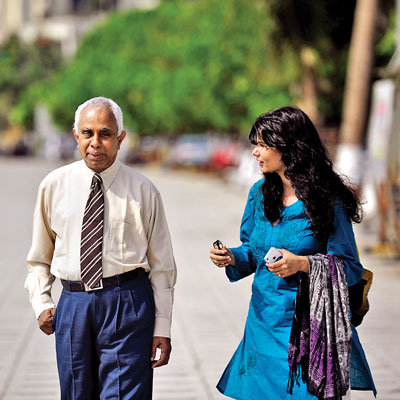 Secretary General of the NGO National Association of Blind (NAB), K Ramkrishna may have lost his eyesight years ago, but he has managed to keep his other vision strong— his vision to succeed and rise above mediocrity. The 64-year-old has been associated with the institute for the welfare of the visually-impaired for last 30 years now. But that's not all what he has done. After completing his post-graduation and MBA from the SP Jain Institute of Management, the mathematics wizard retired from a prestigious bank as the general manager and joined NAB full-time.
"I lost five years of my education, when I started losing my eyesight at the age of eleven. It was indeed a setback, but RT Vyas and Rahmad Fazalboy, who were associated with the NAB then, encouraged me to take up education again," says Ramkrishna. Once he started his studies again, there was no stopping him. "I had a graphic memory and was good at math. That helped me," he recalls.
Quiz him about his success mantra and he says, "I have always believed in a system, people, policies and processes. And above that, I had this sense of urgency in everything I did." Of course, technology played its part too in helping him, but Ramkrishna believes that if he can achieve such great heights despite having an impairment of sorts, then everybody else can. "The youth today should have that one burning dream, instead of being complacent and happy with mediocrity. There are limited opportunities, but when they come, they should grab it by the jugular and utilise it to the full extent," Ramkrishna asserts.
"The desire to struggle for your dream should come from within. After all, like everything else, you have to pay a price for success too," he says. Ramkrishna signs off with another trick that has worked wonders for him. "You have to stand out and be different from the rest," he says.