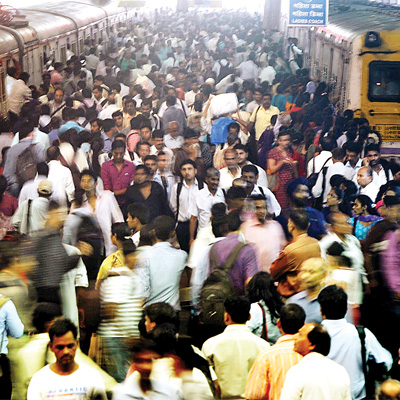 A day after the railway minister DV Sadananda Gowda announced that automatic sliding doors (ASD) would be installed in some suburban locals as a pilot project (with Mumbai being the obvious choice), it has emerged that Central and Western Railways have a difference of opinion on the project.
Dna has learned that these differences came to the fore at a meeting held to discuss the ASD project. The meet was held at Integral Coach Factory-Chennai in April last week. It was attended by officials of WR, CR, Mumbai Rail Vikas Corporation and ICF.
The difference in opinion is centred around the need for vestibules in trains with ASD mechanism. While CR wants trains with ASD to have vestibules, WR opposes it. CR has already written to ICF-Chennai to modify the Bombardier-powered rakes and make it one with ASD plus vestibules.
Over the next two years, ICF is to make 70 Bombardier-powered rakes for Mumbai's suburban system.
The bad news for the Mumbai commuter, however, is that both WR and CR authorities have agreed to these trains not having air-conditioning. This despite the fact that the price difference between an ASD plus vestibule train without AC and a train with all the three features would be just Rs 2 crore (see box 1).
These estimates were made a few months before the budget under the UPA govt and with the railway budget push, officials said things could change for the better.
According to officials, a train with ASD minus AC could have serous ventilation problem, especially in the dense Mumbai suburban system.
Sources said ICF had written to the ministry about the difference of opinion between the two railway zones and had sought clarity. According to sources, ICF is not keen on making alterations to the 70 Bombardier rakes they will be building as that would delay the project.
"In any case, the earliest an ASD-attached local train can be rolled out would be November next year. ICF will require 4-5 months to finalise a design. It then has to procure parts and build a rake. Motor coaches (every second coach in local train has an electrical motor) of a vestibule train would require major design changes if we are talking of a train with vestibules from end-to-end," said a city-based railway official.
Automatic Sliding Doors project (details worked out a couple of months before budget):
Without vestibules and AC: Cost Rs 39cr; to build: around 18 months.
With vestibules minus AC: Cost Rs 41cr; to build: around 22 months.
With vestibules plus AC: Cost Rs 43cr; to build: over 26 months.
Why city needs trains with ASD
Every year around 700 people die falling off locals.
A local train can seat 1,167. During normal hours, for every sitting person, there are two standing, making it 2,334 standees. During peak hours on certain routes, the number of standees could go up to 3,500; and on certain other routes, the number could go up to 4,500 (Super Dense Crush Load, a very Mumbai-specific term).
Commuter numbers rise at a rate of around 3% on WR (carries 35 lakh people) and CR (carries 41 lakh), and a staggering 9% on Harbour Line.